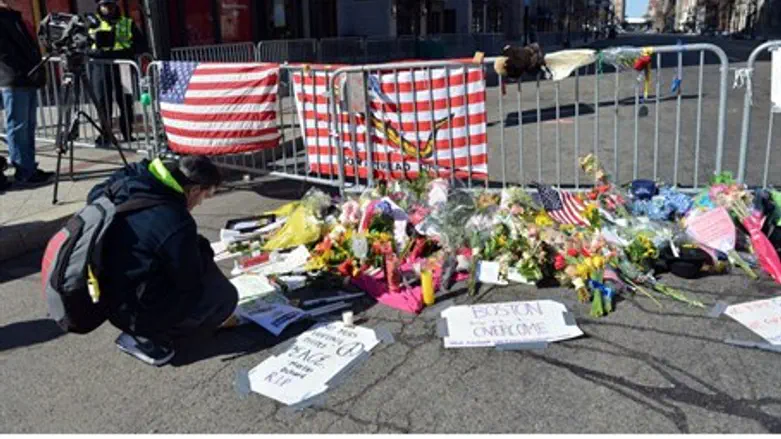 Site of Boston attack
AFP photo
In a scathing attack on a UN-accredited NGO, top UN Human Rights Council official Richard Falk is publicly calling on the 47-nation body to investigate and potentially expel a watchdog organization after it mobilized world leaders—including his own boss, UN Secretary-General Ban Ki-moon—to condemn his comments blaming the Boston Marathon bombings on "the American global domination project" and "Tel Aviv."
In his just-released annual report, Falk—the highly controversial "human rights monitor" tasked by the Council with investigating "Israel's violations of the principles and bases of international law"—accuses UN Watch, a Geneva-based human rights group that fight antisemitism and anti-Israel bias, with "demeaning" and "defaming" his character, damaging the "credibility," "effectiveness," and "substantive intention" of his mandate, all of which "diverts attention from the message" and "shifts public interest away."
UN Watch, whose draft resolution to remove Falk has been circulated by the United Nations as an official document and will be before the Council when he addresses it on Monday, "categorically rejected Falk's baseless and pathetic attempt to cast aspersions on our independence."
"Sunlight is the best disinfectant, wrote Justice Brandeis, and that's why Falk wants to shut us down—so his despicable abuses can proliferate in the dark," said UN Watch executive director Hillel Neuer.
In Falk's report, as well as in intense lobbying efforts that he conducted this week as reported by UN insiders, the Council official demands that UN Watch "be investigated" to determine whether it qualifies as a genuine NGO.
"We call on UN Secretary Ban Ki-moon to denounce Richard Falk's McCarthy-style attempt to have rogue regimes conduct a retaliatory 'investigation' of UN Watch, as a punishment for successfully exposing his gross misconduct," said Neuer.
"Falk is dangerously trying to intimidate and silence the UN's only watchdog group, to grant himself impunity while he continues to exculpate terrorist groups and make other inflammatory remarks that contradict the UN's founding principles," said Neuer.
"We are in good company, however, given that Falk's report also accuses Secretary-General Ban Ki-moon of being 'complicit' with UN Watch for having condemned his 'preposterous' comments, in 2011 and again last month.
Falk wrote that, "it seems important to encourage a greater willingness on the part of senior United Nations officials to defend special rapporteurs subject to such diversionary attacks." Falk's report claims that UN Watch's "smear campaign" is carried out in "numerous settings, including at the Human Rights Council, as well as university venues where the Special Rapporteur gives lectures."
The "smears" have been "sent to diplomats and United Nations officials, including the Secretary-General, who has apparently accepted the allegations at face value, issuing public criticism of the Special Rapporteur… with no effort to seek the views of the Special Rapporteur."
In his report, Falk's ninth and final recommendation is for the Human Rights Council to "establish a mechanism to support Special Rapporteurs who are subject to defamatory attacks, especially those that divert attention from the substantive human rights concerns relevant to their respective mandates."