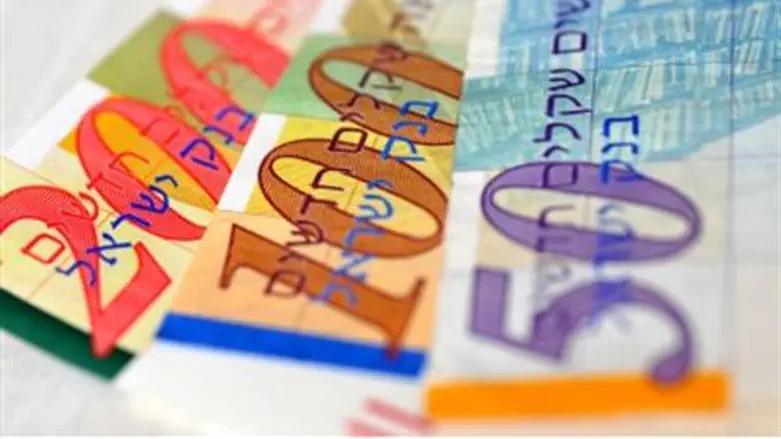 Israeli currency (illustrative)
Israel news photo: Flash 90
Hadera Mayor Haim Avitan has been arrested on suspicion of bribery, fraud and money laundering, along with 11 other city officials, contractors and business owners. Police also arrested Avitan's brother in the raid on the Hadera municipality offices, according to a report broadcast Sunday morning on Voice of Israel government radio.
The report was broadcast the same day a plea bargain agreement was approved in the Be'er Sheva Magistrate's Court for a deal to reduce charges of sexual assault against ex-Kiryat Malachi mayor Moti Malcha.
The former mayor was found guilty of sexual harassment against two women. As part of the agreement, he will pay each of the victims a fine of NIS 30,000 (approximately $8,119).
In addition, Malcha was forced to resign his post as mayor, was sentenced to serve 250 hours of community service, and will not be allowed to run for office in the next elections.
Last month former Mayor Yitzhak Idan of Elad was also forced to resign following his arrest on charges of money laundering. The Rishon LeTzion Magistrates Court ordered the remand of the mayor, as four others were arrested as well.
Charges of the others included paying and accepting bribes, fraud, breach of trust, planning and building violations, theft by unauthorized means, money laundering and tax violations.