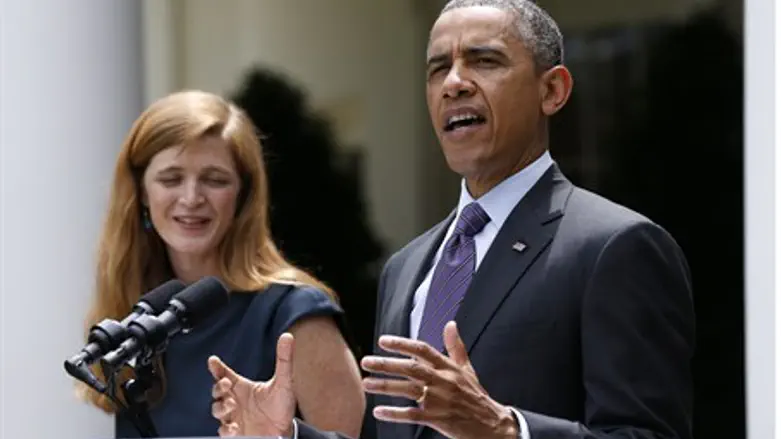 President Obama announces nomination of Saman
Reuters
The Zionist Organization of America (ZOA) on Wednesday expressed opposition to President Barack Obama's nomination of Samantha Power for the post of U.S. Ambassador to the United Nations.
"We understand that Samantha Power played an important role in diminishing the negative impact of the UN Durban II conference which condemned alleged Israeli human rights actions," the ZOA said in a statement.
"We also understand that Ms. Power played a positive role in combating the Palestinian unilateral statehood efforts at the UN. Nonetheless, the overwhelming evidence of her entire record causes us great fear and concern as to her appropriateness for this post," said the statement.
The ZOA, in opposing her nomination, cited Powers' documented record of outspoken anti-Israel statements and lack of diplomatic tact and has urged the Senate to vote her down when her nomination comes before it.
Among other things, the group noted that in April 2002 Power urged investing billions of dollars in a "Palestinian state" and providing a "mammoth" military force to shield it from major human rights-abusing Israel. A video of the interview in which Power made these comments can be seen here.
In April of 2003, noted ZOA, Power made an obscene moral equivalence between terrorist Yasser Arafat and Israeli Prime Minister Ariel Sharon, between Nazi Germany's actions and U.S. actions. Power wrote, "We will lambaste Yasser Arafat, investing significant political capital in regime change, but we will only ritualistically take issue with Ariel Sharon … The United States will not subject itself to the jurisdiction of the ICC, so only it will decide whether it has violated the Geneva Conventions as it bombs Iraq … A country has to look back before it can move forward. Instituting a doctrine of the mea culpa would enhance our credibility by showing that American decision-makers do not endorse the sins of their predecessors. When Willie Brandt went down on one knee in the Warsaw ghetto, his gesture was gratifying to World War II survivors, but it was also ennobling and cathartic for Germany. Would such an approach be futile for the United States?"
In March 2007, noted the organization, Power said that supporting Israel harms the U.S. national interest.
In an interview published on the Harvard Kennedy School's website, Power, answering the question of  the reasons behind "long-standing structural and conceptual problems in U.S. foreign policy," said that one "longstanding foreign policy flaw is the degree to which special interests dictate the way in which the 'national interest' as a whole is defined and pursued …  America's important historic relationship with Israel has often led foreign policy decision-makers to defer reflexively to Israeli security assessments, and to replicate Israeli tactics, which, as the war in Lebanon last summer demonstrated, can turn out to be counter-productive … So greater regard for international institutions along with less automatic deference to special interests–especially when it comes to matters of life and death and war and peace–seem to be two take-aways from the war in Iraq."
"The ZOA is deeply concerned about and opposed to the nomination of Samantha Power as U.S. Ambassador to the United Nations," said ZOA National President Morton A. Klein.
"Ms. Power's record clearly shows that she is viscerally hostile to Israel, regards it as a major human rights abuser, even committing war crimes, and would like to see the weight of American military and financial power go to supporting the Palestinian Authority, not Israel," he added.
"In contrast, she has spoken of Iran as though it scarcely poses a problem. She also strongly suggested that the U.S. cease worrying about alleged Jewish power and money which allegedly forces the U.S. to support Israel and which allegedly is not in the national interest," said Klein.
"As her own words show, Ms. Power indulges in astonishing false equivalence between Israel and the Palestinian Authority (PA). She clearly has difficulty in appreciating the distinction between a law-based, free society and democracy like Israel that is defending itself from those who seek its elimination, and a terror-sponsoring, terrorist-glorifying, violence-inculcating PA that has neither signed peace with Israel nor recognized Israel as a Jewish state," he said.
"President Obama's recent choices of John Brennan as Director of the CIA and Chuck Hagel as Secretary of Defense; his 2009 abortive nomination of the Saudi-decorated, Hamas apologist Israel-hater Chas W. Freeman for the National Intelligence Board; and numerous, lower-level appointments, when coupled now the nomination of Power, reveal a president with little regard for either Israel, the pro-Israel community or the American Jewish community.
"We strongly urge the U.S. Senate to vote down the nomination of Samantha Power," concluded Klein.