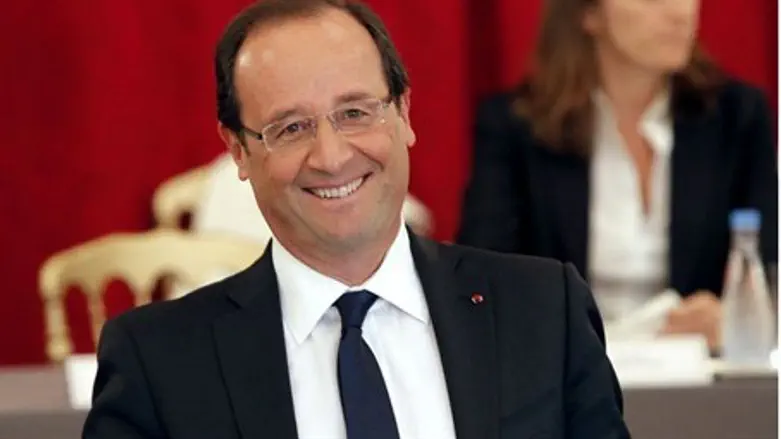 French President Francois Hollande
AFP/Pool
French President Francois Hollande said on Wednesday that the world was obligated to act in response to concrete evidence of the deadly nerve agent sarin being used in Syria.
"We have provided the elements of proof that now obligate the international community to act," AFP quoted Hollande as having told reporters in Paris, a day after France revealed that it had firm evidence sarin had been used by the Syrian regime in at least one case.
However, he cautioned, "We can only act within the framework of international law."
French Foreign Minister Laurent Fabius said on Tuesday that tests on chemical samples from Syria make it certain that sarin was used in that country's civil war, adding that "all options" are on the table.
"We have no doubt that the gas is being used…the laboratory tests are clear," Fabius said after French laboratory tests on blood and hair samples from Syria pointed to the use of sarin gas.
"There is no doubt that the regime and its accomplices" are using them, he added.
"A line has been indisputably breached. We will hold talks with our partners on what we must do and all options are on the table," to decide "whether to react, including in an armed manner," Fabius said.
Reporters working with the French Le Monde newspaper said last week they may have solid proof that chemical weapons were used in Syria. The reporters spent several weeks with rebels on the front lines of Syria's bloody civil war, and returned with samples of weapons used by President Bashar Al-Assad's army.
The U.S. and Britain recently said they have "credible evidence" that chemical weapons have been used in Syria, and Turkey has confirmed its hospitals treated patients exposed to chemical attack.
The White House, however, said on Tuesday that it needed more evidence before declaring formally that sarin gas has been used in Syria.
"We need to expand the evidence we have ... before we make any decision," spokesman Jay Carney said, alluding to President Barack Obama's stated position that use of the deadly nerve agent would be a "game-changer" for Washington.