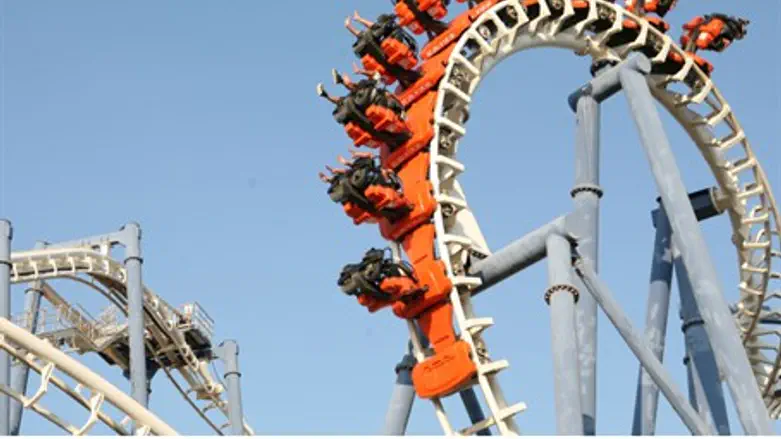 Superland
Israel news photo: Flash 90
At a hearing of the Knesset Education Committee Monday, representatives of the Superland amusement park denied that they were racists. The fact that there were separate days for students from Arab and Jewish schools at the park was, they said, meant to prevent friction between student groups. Friction is a not uncommon occurrence on hot days in June, when large groups of high school and junior high school teenagers come to the park as part of class "fun day" trips, said Deputy Director of Superland Fanny Baruch.
The incident that set off the hearing occurred last week, when a teacher at at an Arab school in Jaffa told Israel Radio that he was told by park officials that his group was unwelcome on the day he requested. Speaking on Israel Radio, the teacher said that there had been no problem until he told park officials that he taught in a school in Jaffa, and that at that point he was given a "runaround" by park officials, until the true reason for the reluctance of park officials to take his reservation was revealed.
Later he called up pretending to be a teacher at a Tel Aviv school, ostensibly a Jewish one, and was given a choice of dates – including the dates that he had been told his class could not be admitted to the park. He later called the park and was told that the day he had wanted to bring his class for a visit was a "Jews only" day, and that he needed to schedule the visit for a day that Arab kids were admitted, as the park reserved separate days for each group.
According to Baruch, "student groups that come to the park on these days are generally very undisciplined. In order to prevent problems we take into account a number of factors, including the potential friction between Arab and Jewish groups. Numerous incidents have occurred in the past between the groups," Baruch told the committee, adding that Superland also held separate days for hareidi schools – with boys and girls attending on separate days – for the same reason.
MK Amram Mitzna (Hatnua), chairman of the committee, said that Superland had no excuse. "We do not have to mention that racism is like a cancer, a very dangerous phenomenon that hurts society." Mitzna added that the problem was not just at Superland, but at many institutions in Israel where Arabs were not wanted because they were Arabs. Mitzna apologized to the teacher and called on Superland to change its policy, and figure out other ways to prevent friction between Arab and Jewish groups.
A representative of the Justice Ministry said that the Ministry would seek ways to prevent incidents like this from occurring in the future.