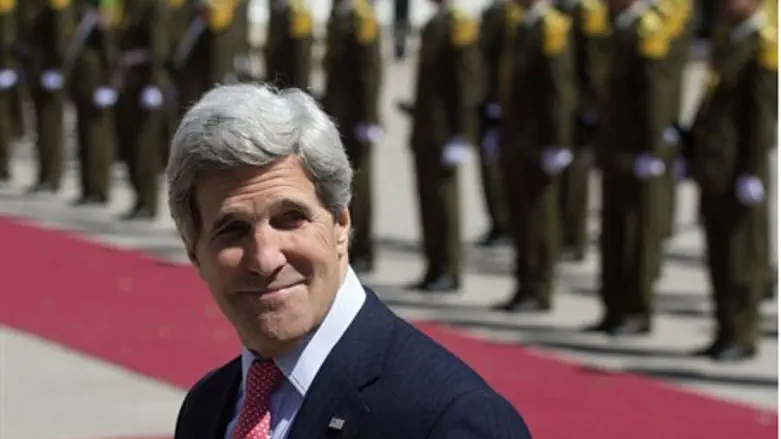 John Kerry in Ramallah
AFP photo
Palestinian Authority (PA) chairman Mahmoud Abbas has decided to appoint an academic named Rami Hamdallah as his new prime minister.
The decision was made public late on Sunday on the last day of a deadline to find a successor to Salam Fayyad, who resigned in mid April following months of tension with Abbas.
Washington hailed the nomination of Hamdallah, who was widely expected to tread a similar path to Fayyad, and Israeli pundits also welcomed the move, describing him as a moderate pragmatist.
"President Abbas has asked me to form a new government, and I have accepted," Hamdallah told AFP late on Sunday.
"The government will be formed in the coming days," he said, confirming that most of the serving ministers would remain in their posts, although he would bring in a new finance minister.
The 54-year-old, who is considered close to the ruling Fatah movement, is the head of Al-Najah University and secretary general of the Central Elections Commission.
Hamdallah was born in Anabta village near the northern town of Tulkarem and has a doctorate in applied linguistics from Lancaster University in northern England.
Under Palestinian Basic Law, he now has an initial three weeks to form a new government, which can then be extended for another two if necessary.
"We congratulate Dr Rami Hamdallah, the next prime minister of the Palestinian Authority," Secretary of State John Kerry said in a statement overnight.
"His appointment comes at a moment of challenge, which is also an important moment of opportunity."
Israel gave no official response to the announcement but pundits described him as a figure who would be acceptable to the West who would not pose any internal threat to Abbas.
"Israeli officials see Rami Hamdallah as a moderate and a pragmatist who will follow the same political line as his predecessor," IDF Radio said, describing him as someone who "knows how to speak to the West."
"Rami Hamdallah is close to Mahomud Abbas, he won't overshadow him. He is more of a manager and not really a political leader, whereas Salam Fayyad appeared more and more like a rival to Abbas," it said.