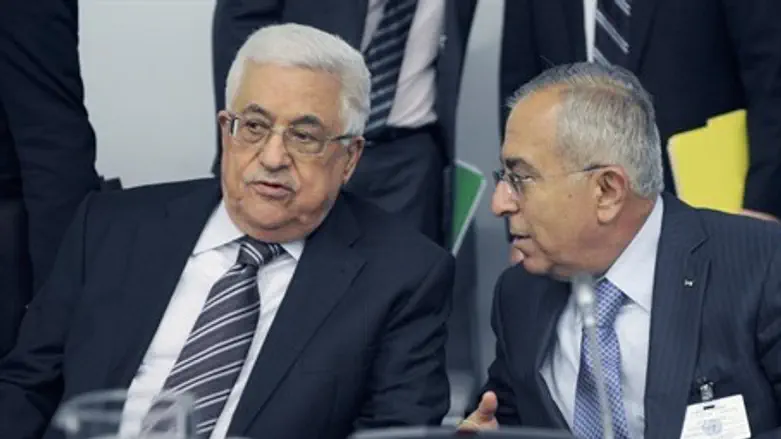 Abbas and outgoing PM Salam Fayyad
AFP photo
Palestinian Authority Chairman Mahmoud Abbas is set to appoint Rami Hamdallah as the entity's new prime minister, officials told the Ma'an news agency on Sunday.
Hamdallah, who is president of the An-Najah University, will replace outgoing prime minister Salam Fayyad, who resigned on April 13 after months of tension with Abbas.
Kamal al-Sharafati will replace Majida al-Masri as PA minister of social affairs, the officials told Ma'an.
"President Abbas has asked me to form a new government and I have accepted," Hamdallah told AFP on Sunday.
"The government will be formed in the coming days," said Hamdallah, who also headed the Central Election Commission and the Palestinian Stock Exchange.
"Most ministers of the outgoing government will stay and I will bring in a new finance minister," he added.
Fayyad's role as caretaker premier drew to a close on Sunday.
Hamdallah, born in 1958, is a political independent who received a PhD in Applied Linguistics from the University of Lancaster in the United Kingdom, reported Ma'an.
He has been president of An-Najah University since 1998.
Abbas accepted Fayyad's resignation in April after a weeks-long falling out between the two and despite U.S. efforts for Fayyad to stay on.
Fayyad resigned after weeks of rumors that he would either quit or be told to step down by Abbas.
Fayyad is considered a moderate and was hailed as a "strong partner" by the U.S. and Canada, yet he has called to free all PA resident Arabs imprisoned in Israel, despite the fact that many are serving time for terror-related offenses, including murder and attempted murder; some were imprisoned for other violent crimes including assault and rape.
He has also accused Israel of causing the death of 200 prisoners through medical neglect, torture or murder. In the past, Fayyad also blamed Israel for the PA's financial crisis, ignoring the fact that the PA pays huge monthly salaries to terrorists imprisoned in Israeli jails. Israel recently discovered that it was none other than Fayyad himself who ordered several years ago that these salaries be tripled.
On April 27, Abbas announced that consultations had started to form a unity government under his own leadership, in accordance with a long-delayed reconciliation deal between his Fatah faction and the rival Hamas.
That five-week period ends at midnight on Sunday, according to Ma'an.
Establishing a unity government and holding elections was one of the aims of a reconciliation deal the two movements signed two years ago, but which has never been implemented.