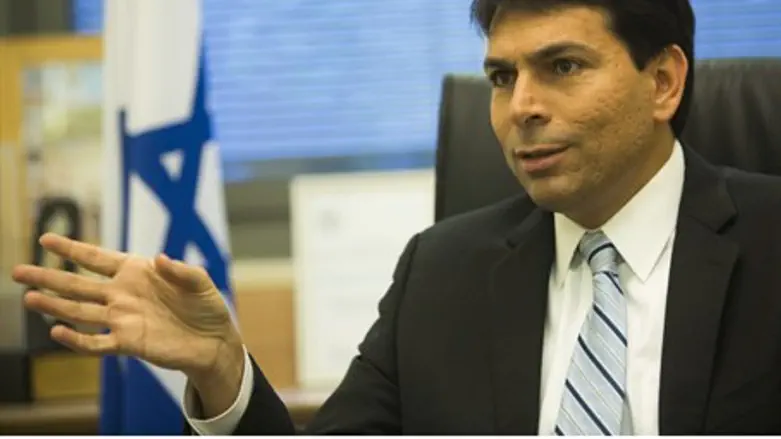 MK Danny Danon
Israel news photo: Flash 90
The Likud party will insist on changes to the proposed "equal burden of service" laws suggested by the Perry Committee, MK Danny Danon (Likud) told Arutz Sheva's weekly Besheva newspaper.
"I think that we'll see changes during the legislative process, from the government and from the Knesset – and the Prime Minister has made that clear," he said.
"The Likud will not be a party to incitement against the hareidi-religious public," Danon declared.
He called on all parties to "be patient and wait for the final version" of the law. "Whoever thinks that Yair Lapid and Yaakov Perry will write the law without oversight – is wrong," he stated.
"It's obvious that Lapid was trying to distract attention from his problems as Finance Minister," Danon added. "I won't support the law as it is currently worded, and this is not my opinion alone, but that of many in Likud."
Deputy Minister of Religious Services, MK Eli Ben-Dahan of the Bayit Yehudi (Jewish Home) party, said that his party, too, will insist on changes. "We will not agree to the Perry proposal in its current form," he said.
"It has good parts, but also less-good parts, like the criminal sanctions," he explained.
The question of criminal sanctions for those who do not enlist has been one of the sticking points in getting support for the new law. Finance Minister Yair Lapid and others from Yesh Atid have insisted that hareidi-religious men who do not enlist should face criminal sanctions, as do non-hareidi, non-Arab Israeli men who refuse to enlist.
Those who oppose the measure have warned that putting hareidi men in jail would only exacerbate tensions over the law and reduce the levels of hareidi-religious enlistment.
The Perry Committee's proposal sets a limit on the number of hareidi-religious men who would be exempt from military service in order to allow them to study Torah full-time. Only 1,800 each year would be given an exemption, on the condition that they study Torah full-time until age 26.
Until last year the Tal Law granted an automatic deferral to any man who chose full-time Torah study. Most hareidi-religious men took advantage of the deferral for several years, learning Torah until they were ineligible for enlistment due to age or family size, and many continued learning Torah beyond that period.
The law was struck down by the Supreme Court after several secular Israelis filed suit against the state, ruling  that it was non-egalitarian and violated Israel's Basic Laws.