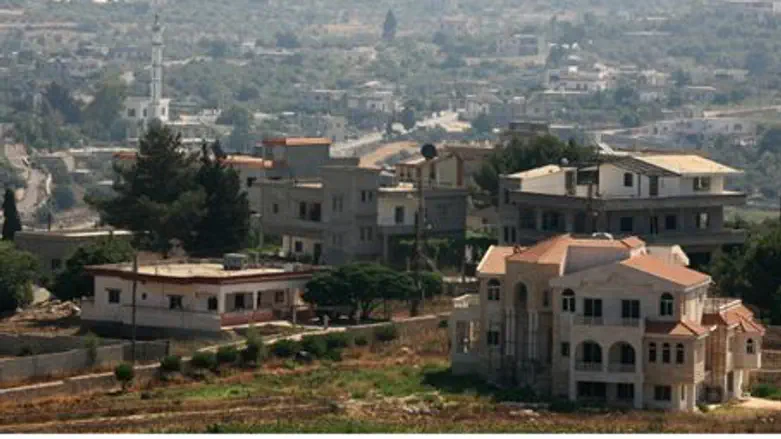 Village in southern Lebanon
Israel news photo: Flash 90
The head of Hamas in Lebanon, Ali Barakha, was informed by Hizbullah that his people were no longer welcome in the country, and that Hamas members should evacuate the country immediately, Israel Radio reported Thursday. The message raised the possibility that the two Islamist groups could end up fighting each other in Lebanon, as each vies for influence with opposing parties in Syria, analysts said.
Syrian rebels have been receiving assistance from the Sunni-oriented Hamas terror group, while the Shi'ite-affiliated Hizbullah terror group has been helping Syrian President Bashar al-Assad's forces in the ongoing civil war in Syria.
Hizbullah is aiding Assad as a proxy of Iran, the main backer of the Syrian despot, while Syrian rebels, seeking to unseat Assad, have turned to Sunni Muslim groups in the Middle East for help. Saudi Arabia is Sunni and fears Iran's increased domination.  Assad himself is a member of the Alawite cult, considered heretical by both Sunni and Shi'ite Muslims.
Recent reports said that hundreds of Hizbullah terrorists have died in fierce fighting on the Syria-Lebanon border, as units of the Syrian army and terrorists battled Syrian rebels for control of the area. Many of the deaths occurred in the Syria-Lebanon border town of Al-Qusayr, a city of over 40,000, which over the past two years has been turned into a war-torn danger zone. It is not known how many Hamas terrorists fought in those battles, but it is thought to be a substantial number by analysts, as both rebels and the Syria army placed a great deal of importance on the battle.
Reports of the Hamas "eviction" by Hizbullah appeared in the Arab press on Thursday, based on information supplied by Syrian rebels, Israel Radio reported, adding that there had been no independent confirmation of the story.
In a separate interview Thursday, Barakha denied the story, saying that Hamas and Hizbullah worked together for the benefit of Lebanon.