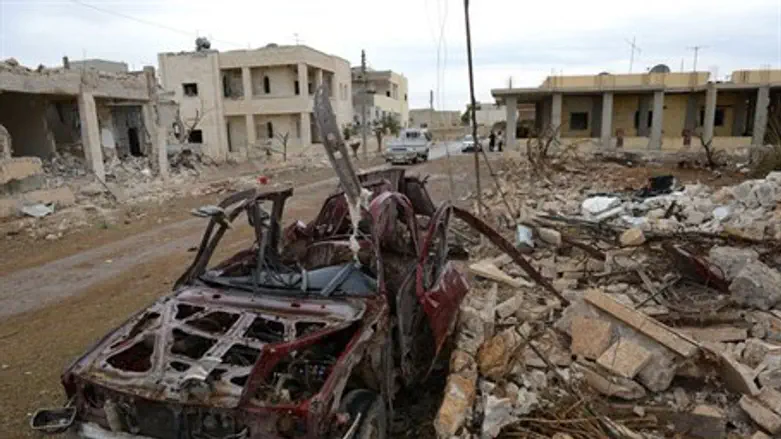 Destruction from Syria's civil war in the tow
AFP/Philippe Desmazes
Israel is gearing up for a deterioration in the regional situation, with a growing number of new threats facing the Jewish state, Prime Minister Benjamin Netanyahu said on Wednesday, the AFP news agency reports.
Netanyahu made the comments as he watched an exercise simulating the response to a chemical attack on a residential neighborhood in Jerusalem as part of an annual civil defense drill.
His remarks came after several ministers raised the alarm over the planned delivery of Russian anti-aircraft missiles to Syria, where President Bashar al-Assad has been waging a bloody two-year war against insurgents bent on overthrowing him.
"These things we are seeing here are meant to protect Israel from an accumulation of new threats. These threats are piling up around us," he said in remarks communicated by his bureau.
Israel, he said, was working with "prudence and great responsibility" but was gearing up for the regional situation to get worse.
"We are anticipating a deterioration," Netanyahu said, without elaborating.
Earlier, public radio said Netanyahu had ordered his cabinet to stay silent on the issue of Russian missile deliveries to Syria a day after two senior ministers criticized Moscow and warned that Israel would not sit quietly if it felt under threat.
Defense Minister Moshe Yaalon had on Tuesday warned Israel would "know what to do" if Russia delivered anti-aircraft missiles to Assad.
"The deliveries have not taken place, and I hope they do not. But if, by misfortune, they arrive in Syria, we will know what to do," he told reporters.
Israel has launched several air raids inside Syria this year, targeting convoys transporting weapons to its arch foe Hizbullah in Lebanon.
Intelligence and Strategic Affairs Minister Yuval Steinitz also confirmed Israel would "react to any threat".
"I hope Damascus understands that. We will react forcefully," he told reporters on Tuesday, describing Russia's planned delivery of the S-300
anti-aircraft missiles as "morally wrong".
Moscow on Tuesday defended its arms shipments to Damascus.
Deputy Foreign Minister Sergei Ryabkov said the missiles were a "stabilizing factor" which could act as a deterrent against foreign
intervention, as fears grow that the Syrian conflict, which has claimed more than 94,000 lives, could spill over into neighboring countries.