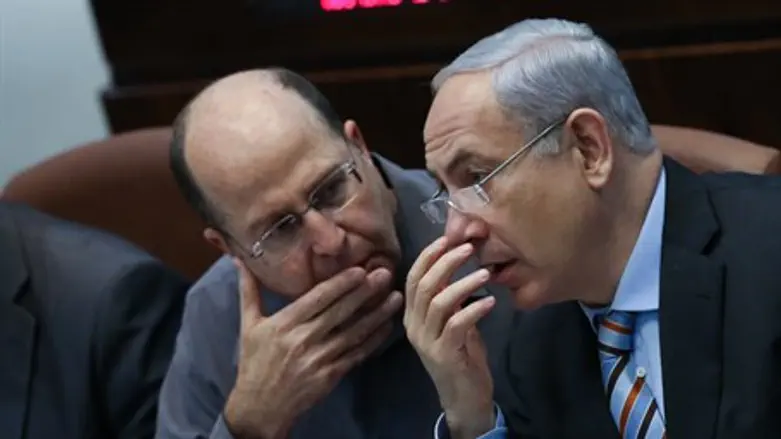 Netanyahu and Yaalon
Flash 90
Prime Minister Binyamin Netanyahu asked Defense Minister Moshe Yaalon on Monday to support the Perry Committee's recommendations for equal burden of IDF service and not to delay legislation of a new draft law.
Netanyahu asked Yaalon to support the legislation despite Yaalon's opposition to imposing criminal sanctions on hareidi-religious draft evaders.
Yesh Atid demands that, once a 4-year transition period is over, hareidi men who dodge enlistment face criminal sanctions, but the other coalition partners want the sanctions to only be financial.
The Perry Committee for Equal Burden of Service abruptly ended a meeting on Sunday night after an argument between Yaalon and the chairman of the committee, Science and Technology Minister Yaakov Perry. Yaalon requested that he be placed in charge of deciding whether criminal sanctions will be applied on evaders after the transition period, but Perry refused.
In response to the disagreement, Yesh Atid chairman Finance Minister Yair Lapid threatened that "There will be equality in the burden [of military service] or this government will fall apart."
Netanyahu reportedly assured Yaalon that "If necessary, we will discuss this section later during the legislative process."
He added that "It would be wrong to delay the law now. The differences [with Yesh Atid] are not that big anyway."