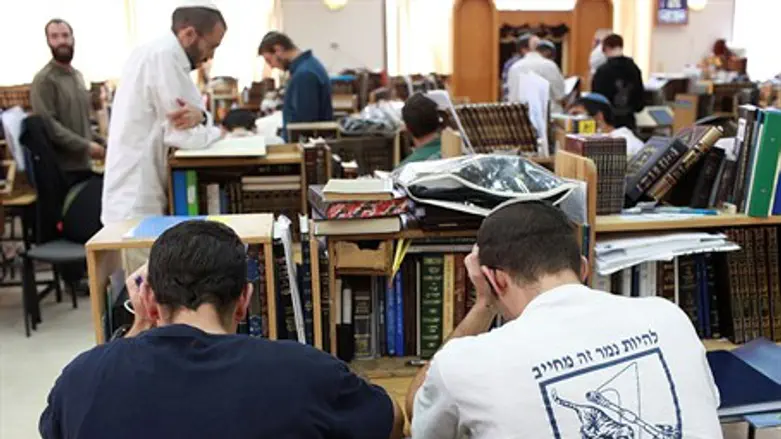 Hesder yeshiva students (illustration)
Flash 90
The Perry Committee for greater equality in military service is convening a marathon session Sunday evening in order to finalize its proposed reforms and bring them to a cabinet vote.
Arutz Sheva has learned that the proposed lengthening of the military service period for soldiers in the Hesder track has been canceled, after representatives of Likud, Yesh Atid and Bayit Yehudi voted against it. The period was to be lengthened from 16 months to 22, but instead only one month will be added, and the period of service will stand at 17 months.
In addition, a clause stressing the importance of the Torah world has been added to the committee's report, following pressure from Bayit Yehudi.
The quota for top Torah students in Zionist yeshivas who will be exempted from military service has been doubled, from 150 to 300.
A source in Bayit Yehudi noted that party head Minister Naftali Bennett has "succeeded in widening the cooperation" between the party and Yesh Atid, even to the point that Yesh Atid supports the Hesder yeshivas and other Zionist yeshivas. "Yesh Atid's support for the demands of Bayit Yehudi should not be taken for granted and is an accomplishment," the source said.