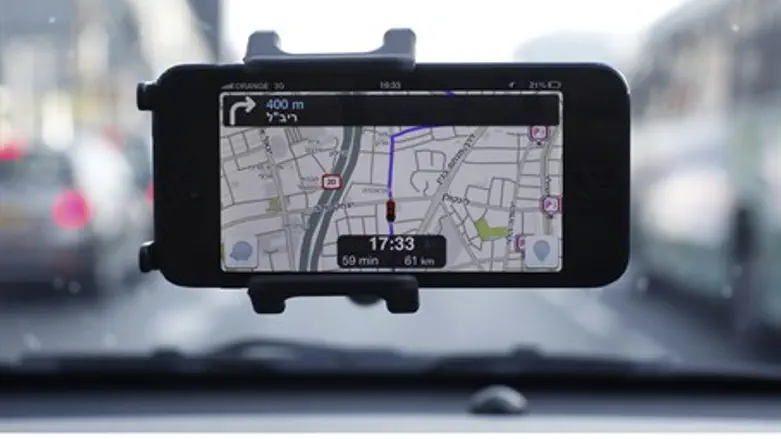 Israeli mobile satellite navigation applicati
Reuters
After Apple and Facebook, now comes Google.  The internet giant and maker of the Android operating system is considering buying map-software provider Waze Inc., Bloomberg news reported on Friday.
Google's interest in the Israeli-based app is setting up a possible bidding war with Facebook, people familiar with the matter said. Just two weeks ago it was reported that the social network is in talks on a potential $1 billion deal to buy the GPS mobile navigation app.
Waze is fielding expressions of interest from multiple parties and is seeking more than $1 billion, a source who asked not to be identified because the talks are private told Bloomberg.
The startup might also remain independent, instead seeking to raise a round of venture capital financing, sources said.
Google and other large tech companies have approached Waze about a possible deal since its talks with Facebook became public, according to Bloomberg.
None of the bidders is close to clinching a deal and the talks may fall apart, sources said.
Google has a widely used mapping tool and could adopt Waze's technology to add social features to the software. A takeover would also eliminate a competitive threat and keep the startup out of the hands of another company, Greg Sterling, an analyst at Opus Research told Bloomberg.
"If they put a lot of effort behind it and really try to develop a social mapping product, it could be something significantly differentiated from what Google is offering and could grow into a competitor for Google Maps," Sterling said.
Apple Inc., which distributes a competing mapping tool, is not currently part of the discussions, a person with knowledge of the matter said. In January, the internet was ablaze with rumors that Apple was about to purchase Waze.
Apple later denied that it was in talks to acquire the Israeli navigation application, saying all the talk about the acquisition was "fabricated" and that no talks had taken place.
Waze describes itself as an app bringing together "the world's largest community of drivers who work together to fight traffic, and save time and gas money on their daily commute."
In February, it was awarded "Best Overall Mobile App" at the 2013 Global Mobile Awards, beating out popular apps such as Dropbox, Flipboard and Square. 
Arutz Sheva's North American Desk is keeping you updated until the start of Shabbat in New York. The time posted automatically on all Arutz Sheva articles, however, is Israeli time.)