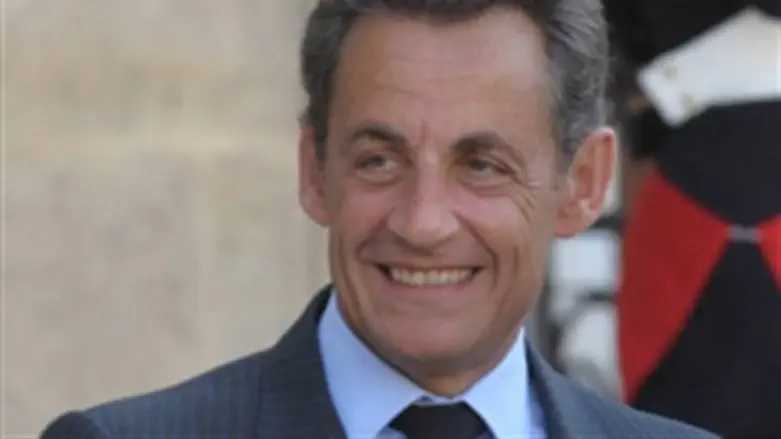 Nicolas Sarkozy
Israel news photo: Flash 90
Former French President Nicolas Sarkozy, on a visit to Israel, hit out at Europe on Wednesday for failing to act in the wake of the ongoing civil war in Syria.
Speaking at the Netanya Academic College, where he was awarded an honorary doctorate, Sarkozy said, "It is sad to see Europe impotent, watching as Israel acts alone and strikes Damascus from the air time and time again."
"Syrians have the right to freedom just as any other nation in the world," he added. "I cannot accept this genocide by the Syrian leader. I thought that after all the tragedies in Europe, such things will never happen again. In Bosnia we reached 200,000 dead and only then the world began to take action. Will we wait again for such a shocking number to act responsibly? I want to believe that it is not too late to take away from Assad the weapons he is using to massacre his people."
The former president said that he always felt very close to the Jewish people.
"Prime Minister Netanyahu and myself dealt with many challenging issues, and by that I mean of course the captivity of Gilad Shalit, a young Jewish Israeli soldier whom France chose to protect."
"If Israel is attacked and threatened, it will not be alone. We as human beings cannot allow there to be a threat to the Jewish people and the State of Israel," Sarkozy said.
Referring to Iran, Sarkozy called for a change in the rules regarding the Iranian nuclear issue, saying, "It's not too late to stop Iran and its pursuit of nuclear weapons. It does not listen to the warnings of the international community, which is dragged after Tehran into a game of meeting after meeting after meeting between experts. The cycle needs to be broken before it's too late and we enter a war."
Finally, the former president spoke about the peace process between Israel and the Palestinian Authority.
"It is easy to talk about peace when one is not in Israel," he said. "It's not too late to bring up the question of a Palestinian state - a key issue for Israel's security. Israel cannot afford to only win wars, it must also win peace and reach out to it. I am convinced that Israeli leaders will take advantage of the opportunity to bring back hope for both nations."