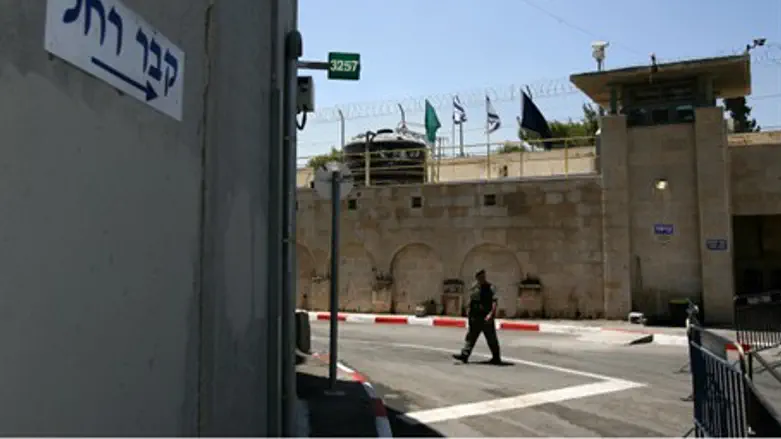 Rachel's Tomb
Israel news photo: Flash 90
The Knesset's Foreign Affairs and Defense Committee discussed the security situation at Rachel's Tomb near Bethlehem in Monday. It appears that a roof may be built over the compound, to protect the worshipers inside from incessant Arab attacks.
The IDF told Knesset Members that about 200 firebombs and 90 improvised explosive devices (IEDs) have been thrown at the compound since November's Pillar of Defense military operation in Gaza. That means an average of almost two bombs a day.
The military said that the very tall walls that have been constructed around the compound – nine meters high, or almost 30 feet – have not sufficed to provide security.
Committee Chairman Avigdor Lieberman instructed the military to examine plans that were drawn up a long time ago, to add a roof over the compound, in order to provide security for the worshipers inside. The military is to go back to the committee and report on its findings in a month's time.
MK Orit Struk said after the discussion, "I am pleased with the results of the discussion and I hope that we will have the privilege of seeing Rachel's Tomb turn from a bunker into a proper place of worship. I thank the IDF and the Border Police for the efforts they have been making in order make the place secure."
Coalition Chairman MK Yariv Levin called the instruction to reexamine security arrangements "important" and predicted that it would lead to the protection of worshipers and of security personnel.