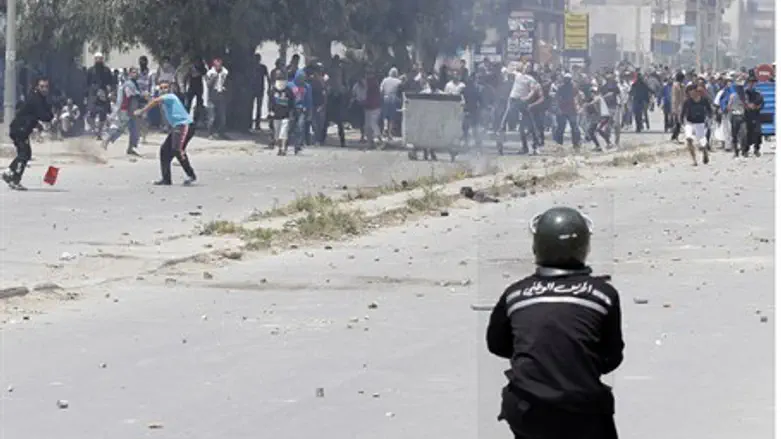 Supporters of Islamist group Ansar al-Sharia
Reuters
Security forces and hardline Islamists fought street battles in Tunis on Sunday, with one protester killed and 15 policemen wounded, AFP reported.
The clashes took place after local authorities banned extremist Salafists from staging their annual congress.
The confrontations infuriated moderate Islamist Prime Minister Ali Larayedh, who for the first time linked the Salafist Ansar al-Sharia group, which is considered close to Al-Qaeda, to "terrorism".
"Ansar al-Sharia is an illegal organization which defies and provokes state authority," Larayedh told Tunisian state television during a visit to Qatar.
"It has ties to and is involved in terrorism," he said, according to AFP.
Sunday's fighting erupted when Ansar al-Sharia (Partisans of Islamic Law) urged its followers to mass in the capital's suburb of Ettadhamen in defiance of a ban on their gathering in the central city of Kairouan.
Salafists advocate an ultra-conservative brand of Sunni Islam, and Ansar al-Sharia, whose fugitive leader fought with Al-Qaeda in Afghanistan, does not recognize the authority of the Tunisian state.
Suppressed under president Zine El Abidine Ben Ali, radical Islamists have grown increasingly assertive since the popular uprising that ousted the secular strongman in January 2011.
Islamists have been blamed for a wave of violence that has rocked the North African country, including an attack on the U.S. embassy last September that left four assailants dead and bombings targeting shrines venerated by Sufis who follow a mystical form of Islam.
Hundreds of Salafists erected barricades in the streets of Ettadhamen, a poor neighborhood located 9 miles west of Tunis, and hurled rocks at police who responded with tear gas, AFP reported.
The security forces used armored cars and bulldozers to destroy the barricades and gain access to Ettadhamen, a stronghold of the Salafist group.
Police closed in on the Islamists, forcing them to retreat to the neighboring district of Intilaka where sporadic clashes continued into the early evening, the report said.
A hospital official said one protester died of gunshot wounds and the interior ministry late Sunday confirmed the death and updated the toll of wounded.
"Fifteen policemen have been wounded, three seriously including one in intensive care. Three protesters were wounded and one is dead," said interior ministry spokesman Mohamed Ali Aroui.
Police detained several Salafists including Ansar al-Sharia spokesman Seifeddine Rais, a police source and the movement said, according to AFP.
Ansar al-Sharia had planned to hold its congress in Kairouan, the country's religious capital, but the government banned the meeting, saying it posed "a threat to public order".
The group nevertheless tried to muster support for the meeting in Kairouan, where its followers shouted insults at the police deployed in the city and clashed briefly with security forces who fired tear gas at them.
Tunisia's ruling Islamist party Ennahda, considered to be a moderate group, received 89 out of 217 seats, more than triple the seats won by any other party, in Tunisia's first democratic election since Ben Ali's ousting.
The party, whose head revealed last year that he was in talks with Salafists, has been criticized for being too lenient towards them. It has hardened its stance towards the extremists in recent months.
Ennahda has said that Islamic law will not be enshrined in the country's constitution, despite demands by Salafists to include it.