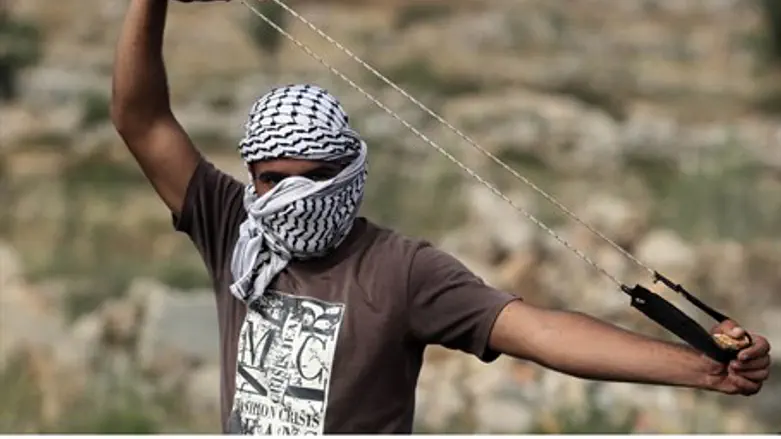 Rock-throwing terrorist
Flash 90
A group of Israelis was targeted by rock-throwing Arab youths in the northern Israel city of Nazareth Illit during the holiday of Shavuot last week, proving that rock terrorism is not only a problem for Jewish residents of Judea and Samaria.
Yossi Farber, a resident of the city, told Arutz Sheva on Sunday that he organizes spiritual activities for IDF soldiers who are stationed at a local base and for this purpose walks from his home to the base. During Shavuot, he recalled, he made his way to the base with six young men when they were targeted by Arab teens.
"On our way to the base, a few dozen Arabs aged 16 to 17, who were leaving a school, spotted us from across the road," said Farber. "When they saw us they tried to cross the road towards us, clearly intending to hurt us, but because there were vehicles traveling fast on both lanes, they could not cross."
Instead, he recalled, the Arabs walked until they reached the sidewalk opposite where Farber and his friends were walking, then proceeded to hurl rocks at the seven. One of them was hit in the leg.
One of the members of his group, said Farber, suggested that they hit the attackers back, but Farber chose instead to instruct his group to keep walking quickly and not respond, "thinking that most of the drivers who pass along this road are local Arab residents, and if we respond we will drag ourselves into a situation which is even more difficult."
Farber added that as he and the members of his group walked away from the rock-throwers, Arab drivers who passed by honked, spat at them, and cursed them. He noted that last year, too, when he was walking towards the IDF base, he was attacked by Arabs.
In the wake of last year's incident, said Farber, he told his group that they might be attacked and instructed them to hold back.
He noted the sense of humiliation that he and the other six felt as they fled the attack, adding that when he came to the police station on Saturday night to file a complaint about the attack, he was told that the attack was likely a part of "Nakba Day", in which Arabs mark what they see as the catastrophe of the founding of the Jewish State. When he demanded police action against the rock throwers, Farber said, the police officer replied, "I am in favor of the fact that each person can walk in this country, wherever he wants, without fear."
On Sunday morning, Farber went again to the police station to ask what became of his complaint. He was told it would be decided later in the day who will be handling the case. Upon asking whether the incident was not serious enough to be treated immediately, he did not receive a satisfying answer.
Arab terrorists have been intensifying the rock-throwing attacks at Israelis. On Saturday night, one Israeli driver after another fell victim to an ambush near Wadi Harmiya, near Shilo in the Binyamin region. Beginning at 1 a.m., Palestinian Authority Arab attackers waiting near the road hurled a barrage of stones at passing cars with Israeli license plates.
Among those targeted by the attackers was the Shlissel family from Ariel. Mother Ayelet was driving, while her husband sat in the passenger seat and the couple's three young children slept in the back seat.
Rock attacks have killed and maimed many people, including babies. The latest baby to fall victim to such an attack, Adelle Biton, is still unconscious in a hospital, two months after the attack.
In the past, deaths due to rock throwing were not considered first degree murder, that is, not premeditated. In April, however, a court for the first time convicted a PA terrorist of two counts of murder in the deaths of Asher and Yonatan Palmer in a rock-throwing attack.
The convicted terrorist took part in an attack in which large stones were hurled at the Palmers' car. A stone hit Asher Palmer, who was driving, in the face. The injured Palmer lost control of the car, possibly after losing consciousness, resulting in a crash in which both he and baby Yonatan were killed.