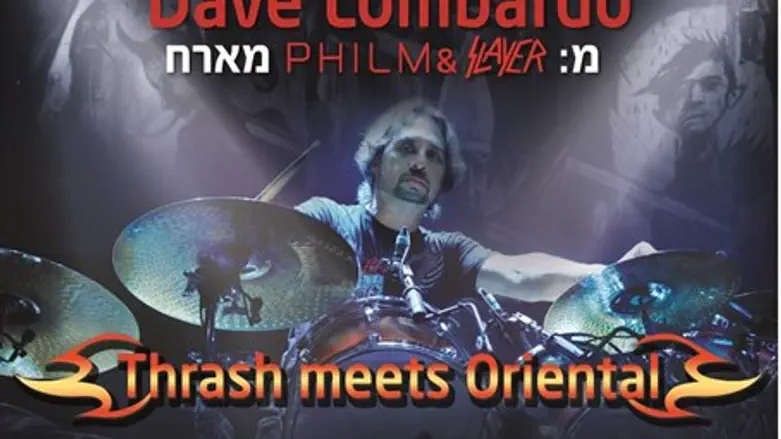 Dave Lombardo in Israel
ProgStage
Dave Lombardo, founding member of the metal band Slayer wowed fans at a Tel Aviv masters class. He spoke to Arutz Sheva about his Hispanic background, the Cuban Missile Crisis and Sephardic metal.
The American drummer is best known as a founding member and percussionist for the American heavy metal band Slayer. He is credited with pioneering the "double bass technique." Slayer is estimated at having sold over 20 million records worldwide. They have won two Grammy awards and been nominated for five awards.
Lombardo is the latest in a long line of internationally famous musicians to perform and hold master classes in Israel in both the rock genre and other musical styles. The visit was organized by ProgStage, which has been bringing high-profile hard rock and metal acts to Israel.
For the full interview download the mp3 by clicking here.
Lombardo's two days in Israel included interviews for the local media, a CD signing at a Tel Aviv music shop, and trips to Jaffa and Jerusalem where he put a note in the Western Wall.
He taught a drum clinic at the fully-packed Barby concert hall in Tel Aviv on May 1st. He shared the stage with well-known guitarist Yossi Sassi who performs with Orphaned Land, an Israeli group that mixes Sephardic and Middle Eastern melodies with metal. The event was dubbed "Thrash Meets Oriental." Also on stage was Roei Friedman, who plays darbouka, hang, and other exotic percussion instruments and Or Lubianiker, bassist for Yossi Sassi and Oceanic. Lombardo also told the audience stories about his life and gave musical advice.
Ironically, one question was about founding Slayer guitarist Jeff Hannemann, who tragically died the next day, reportedly due to complications from a rare poisonous spider bite.
Dave sat down for an interview just before he went on stage. This was his first visit to Israel.
Question: How do you like Israel so far and where have you been visiting?
Answer: I love the country and I love the people. Everybody was very nice, warm, and kind. Last night we went to Jaffa, and had a very nice time. And of course today we were in Jerusalem and walked around a lot. It just amazes me. It's the epicenter of faith. That's where all is started. It's such a beautiful feeling to be there and have these experiences.
Question: Since we are already talking about faith and tradition, let me ask you about your roots and upbringing. You were born in Havana and grew up in a Cuban family. Did you grown up in a traditional religious Cuban family?
Answer: Yes, very traditional. My Dad never even learned English. He just went to work, found a job, worked for a family, bought a house, and then retired. He lived the American dream without speaking a word of English. It still amazes me. My Mom can speak some English, but not too much. So the home was fully Cuban. I heard Spanish all the time. When I stepped outside the house I was in America and when I came home, it was Cuban music, Cuban food, and television in Spanish.

Question: Do you consider your identity to be Cuban-American?
Answer: Yes, absolutely. I speak a Cuban dialect of Spanish and I listen to Cuban music. I have passion for my country. I wish things would get resolved because I want to go back to Cuba. I've been everywhere, Israel, India, Japan, Indonesia, and all over Europe, but I've never been back to my own country. I have a very deep yearning.
Question: Your family left Cuba when you were 2 years old. Why did they move to California rather then Florida or Union City, N.J. where there were established Cuban-American communities?
Answer: Let me tell you the story. In the late 1950's in Cuba they started to teach Communism in schools. So my Mom and Dad sent my older brothers and my sisters to America. This program was called Pedro Pan [Operation Peter Pan]. So my siblings were among the Pedro Pan children. They were sent to California. That's why we ended up there later. When my siblings left, my parents said to them, we'll see you in five months. But Russia was sending missiles to the island and the Cuban Missile Crises happened. The wall went up, and they stopped all flights going out of Cuba. So my Mom and Dad didn't get to see my brothers in five years. They were 10 and 13-years-old at the time. That's how we ended up in California because they were with a foster family there. My father was forced to shut down his business because of Communism. My siblings were away, the family was almost destroyed. My Mom and Dad had terrible fights and arguments about everything. They were going to get a divorce. And then my mother became pregnant with me.
Question: Is it possible that all this tension and pressure is the root of the famous double bass technique? You are considered one of the most aggressive drummers in the metal genre?
Answer: Probably. My mother even says, "Thanks to Fidel Castro, David was born". If not for the pressure, Pedro Pan, and the missile crisis, I might not have been born.
Question: You grew up with an immigrant identity, and so did Tom Araya, the singer and bassist of Slayer, who was born in Chile. Is there a Hispanic connection between you two?
Answer: Yes. I first saw Tom Araya when I was around ten years old. I saw him playing bass who he was about fourteen. Cubans had these Cuban clubs, where families would go and cook and dance to Cuban music would play. One day, they had a band called Tradewinds. There was this little kid on bass with really long hair, and that was Tom Araya.
Question: How did you discover your musical talent?
Answer: There was a lot of music played in my house and in the Cuban clubs. There were always bands playing. I would always stand backstage and watch them. My Mom would always say, "Davey, go outside, go dance with the girls, go play with the kids!" I would say, "No, Mom I wanna watch the band!" Cuban music is a very passionate music. You play very fast with a lot of emotions. Even certain parts of famous Slayer songs come from Cuban music. I didn't take lessons. I taught myself by listening to music, watching the drummers and studying different musicians, not by notes and paper. I think listening is so important.
Question: So how did you end up in the world of heavy metal music?
Answer: The power and the aggression attracted me. I would hear a song on the radio, and if it was powerful, I would go and buy it. For example when I heard Led Zeppelin's The Wanton Song I had to buy it. I remember being excited when Killers from Iron Maiden came out. They looked scary and I was fascinated by that. Now that I'm older, I listen to more mellow music. I like a lot of Latin jazz, Chucho Valdés, Arturo Sandoval, Paquito D'Rivera, Michel Camilo, and a lot of the classic Cuban music, and I draw from that. I would love to do a project with Latin artists. And an interesting project could happen with Yossi.
Question: Speaking of Yossi, have you ever heard any Israeli oriental metal, or Sephardic rock?
Answer: No. I never heard of Orphaned Land or Yossi Sassi until I came here, but I was very impressed by him. We were playing together and it was magic. I have a great appreciation for oriental, Balkan and gypsy music, the Greek stuff and also the music from this country, Israel. When I was talking to Patrick Losinsky [head of ProgStage productions] I was asking for some local musicians, maybe some klezmer musicians to play together with me. That's when he introduced me to Yossi.
For the full interview in audio format including tidbits about his family life, download the mp3 by clicking here.
Gabriella Licsko is a lecturer and historian who made aliyah from Hungary. She lectures twice a week on Jewish history and Israeli society at the Orthodox Union Israel Center in Jerusalem. She is the former show host of Israel National Radio's Welcome to the Tribe. For podcast archives click here.