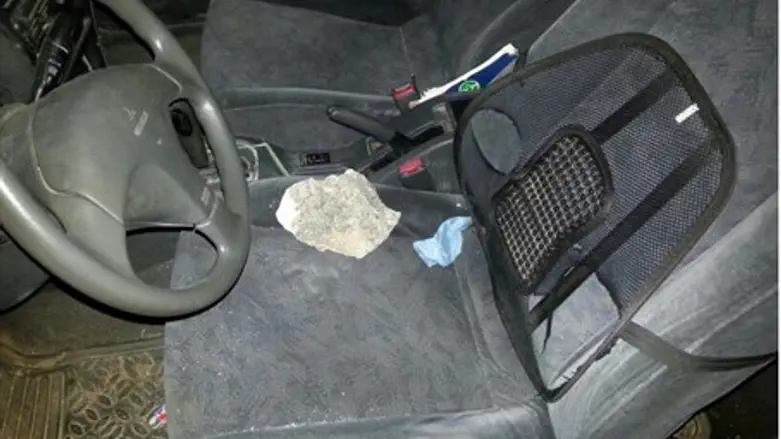 Aftermath of Wadi Harmiya ambush
Arutz Sheva
Rock throwing Arab terrorists ambushed several cars carrying Jewish families at 1:30 a.m. Saturday night at Wadi Harmiya in Samaria. Some slight injuries were reported, and some damage was done to cars.
One of the cars was driven by Adiel Getz, a resident of Esh Kodesh. His wife and three children – one of whom is a few months old – were in the car.
Getz told Arutz Sheva that he saw rocks being thrown at the car from both sides of the road simultaneously. One missed the window but the other smashed through.
He kept on driving, and stopped the car at the Shilo Junction. Other cars that had been attacked were already standing at the junction, and additional cars that were attacked after his, joined them shortly afterwards.
It took 30 minutes for an IDF force to show up, receive the details of the attack and drive to the wadi.
Ayelet Shlissel of Ariel was in another one of the cars that was attacked. Her husband was in the seat next to her. He was hit by a rock, which could just as easily have hit their four-month-old baby, who was sleeping in a chair in the back seat.
"I don't want to think what would have happened if that rock had struck the baby's head," she told Arutz Sheva. She called on the IDF to understand that rock attacks are terror acts.
Rock attacks have killed and maimed many people, including babies. The latest baby to fall victim to such an attack, Adelle Biton, is still unconscious in a hospital, two months after the attack.
credit: ערוץ 7
credit: ערוץ 7
credit: ערוץ 7