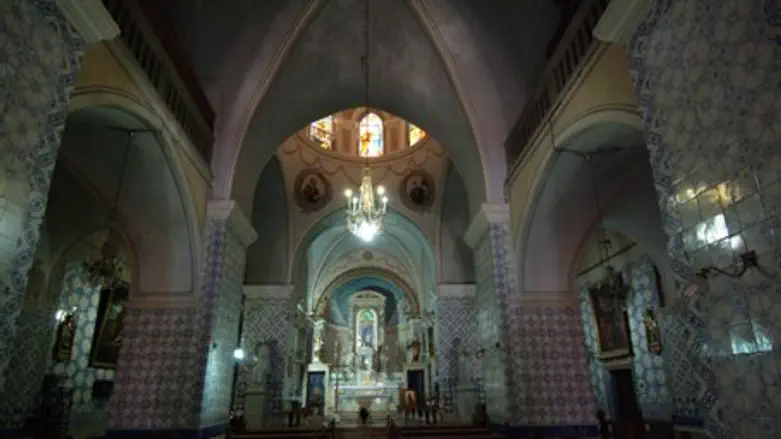 Church
Flash 90
The Church of Scotland's "revision" of its April report "The Inheritance Of Abraham? A Report On The 'Promised Land'," is insufficient and continues to rely on the anti-Israel group Sabeel, said Jerusalem-based research institute NGO Monitor.
"The revised report is the same tainted wine in a new bottle," said Yitzhak Santis, NGO Monitor's Chief Programs Officer. "Though some of the more hurtful language was removed from the main body of the report, much of its original offensive theology and ideology remains."
"The revision contains a patronizing attitude toward legitimate Jewish concerns of being disparaged, describing the original report's reception as 'the words we have chosen may have been misunderstood, which created an anxiety in the Jewish Community,'" Santis continued. "There was no misunderstanding of the Church's message. It was aggressive and insulting."
The most touted changes are in the introduction, which the Church describes as filling the need "to set the context for the report and give clarity for some of the language used."
However, NGO Monitor notes that the Church of Scotland continues to rely heavily on the non-governmental organization (NGO) Sabeel Ecumenical Liberation Theology Center in Jerusalem, which is an official partner of the Church of Scotland. Sabeel promotes the Palestinian Liberation Theology of its founder Rev. Naim Ateek, which embraces "replacement theology," the teaching that national Israel has forfeited its status as the chosen people, and the church is now the true Israel that has permanently replaced the Jewish people. Echoes of Ateek's belittlement of Judaism and replacement theology remain in the Church of Scotland's "revised" report.
"Rev. Ateek promotes classic anti-Jewish tropes including deicide imagery and replacement theology," continued Santis. "On the one hand, the report declares 'we reject racism and religious hatred' and 'condemn(s) anti-Semitism,'" Santis said. "But if the Church of Scotland is serious in its rejection of religious hatred, there is no better place to start than with this report. We call upon delegates to the church's General Assembly not only to reject this document's own religious intolerance, but to immediately end its partnership with Sabeel and its hateful message."