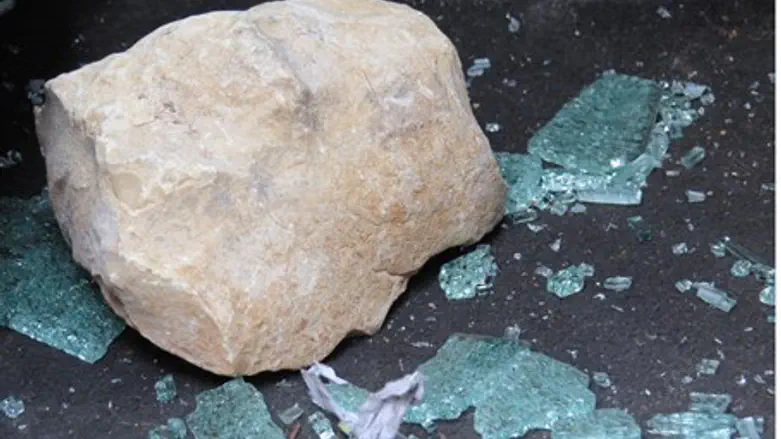 האבן שפגעה
צילום: איילת שליסל
On Saturday night, one Israeli driver after another fell victim to an ambush near Wadi Harmiya, near Shilo in the Binyamin region. Beginning at 1 a.m., Palestinian Authority Arab attackers waiting near the road hurled a barrage of stones at passing cars with Israeli license plates.
Among those targeted by the attackers was the Shlissel family from Ariel. Mother Ayelet was driving, while her husband sat in the passenger seat and the couple's three young children slept in the back seat.
Ayelet Shlissel recalled the attack in an interview Sunday with Arutz Sheva.
"We passed Wadi Harmiya and suddenly I heard the boom," she said. "My husband was hit by a rock and fell onto me."
"After a few seconds he came to, and he checked to see that everyone was OK," she recalled. He husband would later require hospital care.
They did not stop to fully assess the damage, but simply left the scene as quickly as possible, she said. She realized the danger they had been in only after reaching the Eli junction and stopping to report the attack to security forces.
There, they saw how large the stone that had hit her husband had been, and saw that a smaller stone had hit the carseat in which their four-month-old daughter was sleeping. "I don't want to think what would have happened if the [large] rock had hit the baby," she said.
They later realized that many other drivers had suffered a similar attack at roughly the same time, she added. "This is terrorism in every sense of the word," she said.