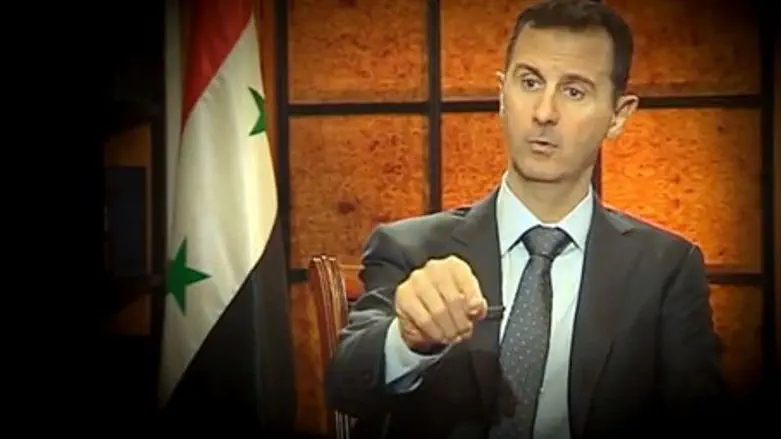 Syrian President Bashar al-Assad
AFP photo
Russia's shipment of anti-ship missiles to Syria will "embolden" the regime and fuel the country's civil war, the U.S. military's top officer said Friday, according to AFP.
General Martin Dempsey's comments were the first official confirmation from the U.S. government that Moscow had sent advanced "ship-killer" cruise missiles to President Bashar al-Assad's regime.
"It is at the very least an unfortunate decision that will embolden the regime and prolong the suffering," the chairman of the Joint Chiefs of Staff told a news conference when asked about the reported shipment of missiles.
"It's ill-timed and very unfortunate," Dempsey added, according to AFP.
The New York Times first reported the arms shipment, quoting unnamed U.S. officials, and that the missiles were outfitted with advanced radar.
Russia had previously delivered Yakhonts cruise missiles to Syria but those did not have the sophisticated radar, it said.
At the same press conference, Defense Secretary Chuck Hagel said the United States would continue to confer with Russia on the Syrian conflict and that both countries shared an interest in preventing a potential regional war that would be explosive.
On Thursday, Russian Foreign Minister Sergei Lavrov indicated that despite Israel's objection, Russia would go ahead with selling S-300 advanced missile systems to Syria.
Speaking to the Lebanese-based Al-Mayadeen television, which is close to the Hizbullah terror group, Lavrov said that Russia is "committed to the agreements" signed with Syria regarding the advanced missiles and will "fully carry them out."
As he has said previously, Lavrov reiterated that Russia does not intend to sign new agreements with Syria for the sale of weapons, but explained that since the S-300 deal was signed before the outbreak of the civil war in Syria, Russia intends to carry it out as planned.
"We have no intention of breaking international law," Lavrov explained. "However, we do not want our reputation as reliable suppliers of weapons to be affected."
Prime Minister Binyamin Netanyahu urged Putin in Sochi on Tuesday not to follow through with Russia's decision to ship the powerful surface-to-air missiles, that can take out fighter jets.
(Arutz Sheva's North American Desk is keeping you updated until the start of Shabbat in New York. The time posted automatically on all Arutz Sheva articles, however, is Israeli time.)