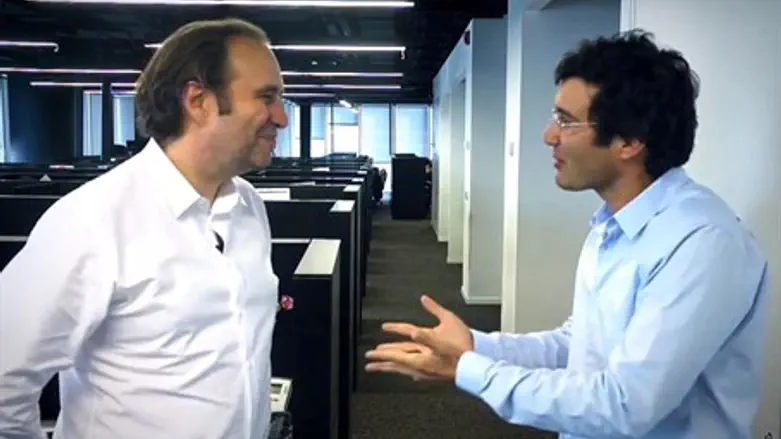 Niel Xavier and Michael Golan
Yoni Kempinski
It has been one year since the "cellular revolution" hit Israel, breaking the monopolies of the large cellular companies and allowing new providers to enter the market and offer lower rates.
One of the pioneering companies of this revolution is Golan Telecom, which made resounding headlines when it entered the market last year, offering very competitive rates and attracting thousands of customers. In fact, said company founder Michael Golan, in the past year the company has attracted 257,750 customers – an average of one new customer every two minutes.
Golan, who made aliyah from France, held a special event this week marking his company's first anniversary. He announced that Golan Telecom will continue the competition and will be offering a 50 shekel monthly plan until the end of June. The company is also mulling entering the landline telephony sector, if the Ministry of Communications telephony reform makes it possible, he said.
Arutz Sheva's Yoni Kempinski spoke with Golan, who highlighted his belief in Israel's strong economy.
"We know that prices in Israel are very high in many services, and if you bring competition into all these services, like Golan Telecom did with the mobile prices, you can change the situation," said Golan.
Golan Telecom's co-owner is wealthy French businessman Niel Xavier, who also said that he strongly believes in the Israeli economy and that's why he chose to invest in the Jewish State.
"I love Israel very much, it's a very dynamic country," he said. "There are many entrepreneurs that open companies here. Young people with much motivation and a hunger for success. I myself invested in a number of Israeli start-ups and I still have the will to invest here because this is a country which wants to bring a change."
Xavier added, "I recommend to all investors in the world to come and invest in Israel. There are brilliant minds here. This is one of the most modern countries in the world and when I am here I feel as though I'm in the Silicon Valley.
Golan noted that Xavier "decided to invest in Israel with me because he saw that the government was willing to massively decrease prices by bringing in a new player against the existing cartels. When the regulator wants to change things, we are here to make the change."
"I think he will be with us for a long time," said Golan.
(Arutz Sheva's North American Desk is keeping you updated until the start of the Shavuot holiday in New York. The time posted automatically on all Arutz Sheva articles, however, is Israeli time.)