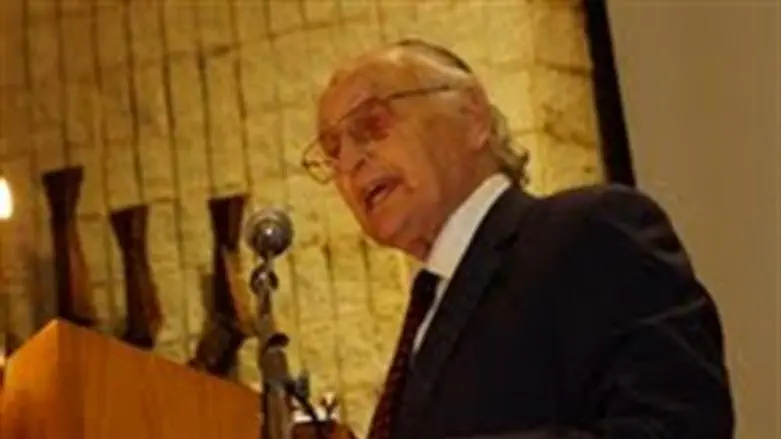 Yehuda Avner and Rothschilds
INN: D.P/
Benji Hillman was a company commander in the Israeli army's elite Egoz reconnaissance unit, who tragically fell in action in July of 2006 during the Second Lebanon War, only three weeks after his wedding.
An estimated 450 people from throughout the Tri-State Area came together at Young Israel of Jamaica Estates (YIJE) on Sunday, May 5, to show their support for the soldiers of the Israel Defense Forces at an evening in honor of the Benji Hillman Foundation, which caters to the needs of Israel's lone soldiers—IDF servicemen and women who do not have family residing in Israel; 40% of whom serve in combat units.
Proceeds from the event, sponsored by YIJE members Jacques and Karen Rothschild, are being donated to the Foundation.
Delivering the evening's keynote address was Ambassador Yehuda Avner, who regaled the congregation with stories from his time as a soldier in Israel's War of Independence and offered insights regarding the current geopolitical situation in the Middle East.
Before the evening's presentation, Arutz Sheva spoke with YIJE's Rabbi Shlomo Hochberg, who described the work of the Benji Hillman Foundation in terms of Jewish tradition, citing the words of the renowned Torah commentator Maimonides: "When people were exempt from [military service], the Rambam says they're still responsible to provide food and drink, and roads for the soldiers who were going to war. So even though we in the USA may not able to go and serve in the army, we still have a responsibility to take care of the soldiers."
He went on to explain that his community's support for Israel and the IDF runs even deeper than that. "We have from our own synagogue, over the last several years, four lone soldiers, and they're there. One of them made aliyah (emigrated to Israel), one of them just went to be in the army and came back, another made aliyah but will be coming back to America in shelichut (i.e. serving as an Israeli cultural emissary) in the coming year."
The synagogue's assistant rabbi Joshua Goller echoed Rabbi Hochberg's sentiments, noting that the congregation prides itself on "encouraging and supporting" its younger members who volunteer to serve in the IDF, and that it "takes a very active role, more than most other communities, in supporting the State of Israel, and causes for Israel."
Synagogue president Dr. Ron Kahn expressed his admiration for the work of Ambassador Avner, and his pleasure over the event's impressive turnout.
Prior to the keynote, Rabbi Hochberg opened the evening's program, and introduced event sponsor Jacques Rothschild, himself a former IDF lone combat soldier and unit commander in the Nachal Paratroopers Brigade, who was wounded in the line of duty. Rothschild paid a moving tribute to Major Benji Hillman (Z"L), and drew a poignant historical connection among former Israeli PM Menachem Begin, Ambassador Avner and Benji Hillman, elucidating their shared characteristics.
He stressed the importance of the Jewish community's obligation to "ensure that our heroes did not die in vain." His remarks were woven throughout with biblical and Talmudic references  as he explained that IDF service plays a key role in shielding these soldiers from both anti-Semitism and the risk of assimilation they would face if they had stayed in their countries of origin.
Rothschild also described the challenges and difficulties that lone soldiers face by not having close family in the country, especially at times of injury.
Recently, the Foundation opened "Habayit shel Benji" ("Benji's House") in Hillman's home town of Ra'anana. The house is intended to serve as home for lone combat soldiers for the duration of their service and as a guidance center for all lone soldiers immediately after their separation from the army. It will be staffed by a permanent "house mother," an education/vocation director and volunteers, and can accommodate up to 50 soldiers at a time.
Mr. Rothschild shared several personal stories illustrating how Hillman frequently went above and beyond the call of duty to personally ensure that his soldiers' needs were met. Whether it was paying out of his own pocket for a suit for one of his comrades to be married in, or personally replacing the broken refrigerator of a soldier who could not afford to do so on his own, Rothschild's anecdotes painted the portrait of an army officer who viewed the men under his command not merely as subordinates, but as family.
The audience was presented with a stirring video dedicated to Hillman's memory, and that of lone soldiers who died defending Israel from the forces of terror, including Michael Levin—a volunteer from Pennsylvania who served in the paratrooper brigades—and Johan Zerbib, a 22-year-old combat soldier originally from the suburbs of Paris, France.
The evening culminated with a keynote address (and subsequent book signing) featuring former Israeli Ambassdor Yehuda Avner. Avner, a veteran of Israel's War of Independence, later became a key advisor to several Israeli prime ministers and a distinguished diplomat. Having held posts at the Israeli Consulate in New York City and the Embassy in Washington D.C., he was subsequently appointed the Jewish state's ambassador to the United Kingdom, and later, Australia.
Commenting both on his experiences as a soldier and the current politics of the Mideast, the British-born Ambassador Avner cut a charismatic, larger-than-life figure. The passion and intensity with which he spoke belied his 80-plus years. He took his audience back to Jerusalem on the eve of Israel's declaration of independence, when he served as part of an army unit outfitted with only a dozen World War I-era rifles, and charged with the daunting task of preventing a major Arab attack.
"Rumor had it that Iraqi irregulars were infiltrating into [the neighborhood of] Ein Karem to join up with a Jordanian brigade coming out from Jericho to launch an offensive that very night!"
"We were supposed to stop them," Avner recalled, "but not one of us had the slightest idea how."
The ambassador described the harrowing experiences faced by his unit of twelve ragtag volunteers, poorly equipped and with no line of communication to the outside world. "There was no field telephone, no intelligence, not even a radio."
Avner spoke of the emotional high of making Friday night kiddush upon learning of the official rebirth of the Jewish state (though they did not know its name at the time), and the low of seeing several of his comrades-in-arms killed by the enemy. "It was as if we had written our declaration of independence with our own skin as the parchment, our own blood as the ink, and our own skulls as the inkwells."
He spoke with pride of how on that fateful night in 1948, the Jewish people had reestablished themselves as not just an object of mankind's continuing history, but as a subject, "re-entering the family of nations," observing that the joys of the Jewish people are "somehow always commingled with sorrow."
"With every chuppah (wedding canopy) there is a smashed glass; with every [Passover] seder there is a maror (bitter herb); with every yom tov (holiday) there is Yizkor (memorial prayer), and with Yom Ha'atzmaut (Independence Day) there is Yom Hazikaron (Remembrance Day)."
Along with captivating war stories, Avner told of his time serving as an advisor to Israel's top leaders. He spoke of the trials and tribulations he faced alongside them, and of the threats, both past and present, facing Israel from Iran and the Arab world.
Speaking in reference to the international community's equivocal response to Iran's nuclear program, Avner declared to resounding applause that "Israel will not outsource its own self-defense, even to its best friend."
Ambassador Avner spoke of his interactions with present-day Israeli lone soldiers, and touched upon the significance of Habayit shel Benji, describing it as a "beautiful edifice."
"The roof that (Habait shel Benji) is going to put over lone soldiers, who have been embraced by so many of our population as their own... I conclude also : 'You know what? I guess we are mishpacha (family) after all.'"
In 2010, Ambassador Avner authored bestselling The Prime Ministers: An Intimate Narrative of Israeli Leadership, in which he shares his first-hand experiences working with Israel's political leaders. The Prime Ministers was named a finalist for the National Jewish Book Award, and is now being made into two films, one a documentary and the other a dramatic adaptation. He is currently a fellow of the Jerusalem Center for Public Affairs and a member of the Ambassadorial Appointments Committee.