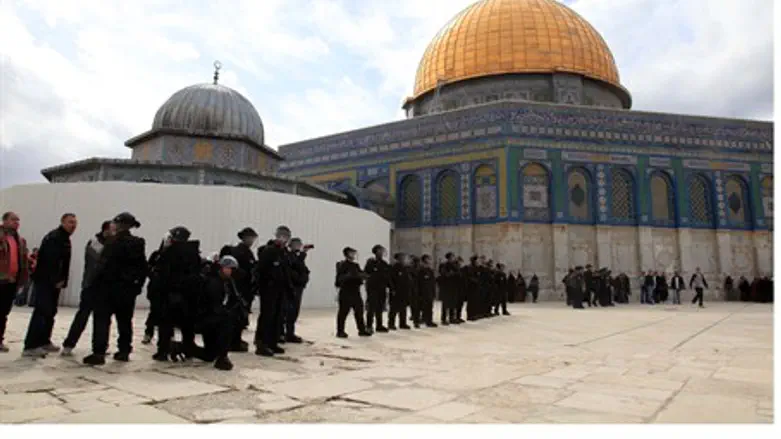 Mosques on the Temple Mount
Flash 90
The United States on Wednesday called for both Israel and the Palestinian Authority to exercise restraint amid tensions over a disturbance at the Al-Aqsa mosque compound in Jerusalem.
"We're concerned about the recent tensions surrounding the Temple Mount, Haram al-Sharif, including the detention today of the Grand Mufti," State Department deputy spokesman Patrick Ventrell, told reporters, according to AFP, using the Muslim name for the Temple Mount.
"We understand that he was released," he said. "But we urge all sides to respect the status quo of this holy site and to exercise restraint and refrain from provocative actions."
Earlier Wednesday, Israeli police questioned and released Jerusalem's most senior Muslim cleric for suspected involvement in throwing chairs at a group of Jews on the Temple Mount.
The Mufti of Jerusalem Mohammed Hussein was taken from his home by detectives and was being questioned at a police station "on suspicion of involvement in a disturbance that took place yesterday (Tuesday) on Temple Mount," police spokesman Micky Rosenfeld told AFP.
Hussein's detention came as Israelis were celebrating Jerusalem Day.
In response to the incident, Jordan MPs unanimously demanded that the government expel Israeli Ambassador Daniel Nevo. 
"The (150-member) lower house of parliament unanimously demanded the government ask the Israeli ambassador to leave Jordan, and recall the Jordanian ambassador in Israel," Jordnian official Walid Obeidat said, adding that the vote came in response to "Israeli occupation measures at Al-Aqsa mosque".
After Israel liberated the Temple Mount during the 1967 Six Day War, it left the Waqf in charge of the compound.
The Waqf, in return, has removed every sign of ancient Jewish presence at the Jewish holy site and has consistently destroyed Jewish antiquities on the Temple Mount in a direct violation of a ruling by the Supreme Court.