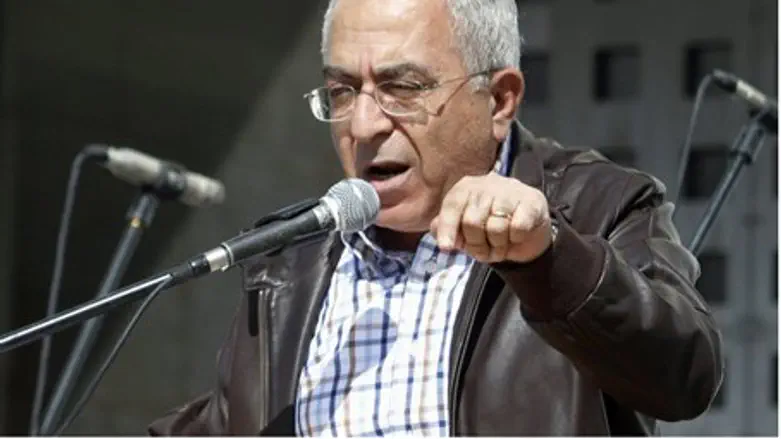 Salam Fayyad
AFP photo
The Palestinian Authority's Prime Minister, Salam Fayyad, denied on Saturday that he had given an interview to the New York Times, in which he blamed the PA's troubles on failed leadership, the PA-based WAFA news agency reported.
Fayyad's office said in a statement quoted by WAFA, "The statements in the article are just journalist Roger Cohen's personal impressions, and certainly not the words of Fayyad, who did not make any statements or conduct interviews for the New York Times or any other newspaper or agency since his resignation."
According to WAFA, the article caused an uproar among Palestinian Authority Arabs, while Fayyad's office said that this article must not be published as an interview with Fayyad.   
Fayyad, who announced his resignation last month, was quoted in the article as having said, "Our story is a story of failed leadership, from way early on. It is incredible that the fate of the Palestinian people has been in the hands of leaders so entirely casual, so guided by spur-of-the-moment decisions, without seriousness. We don't strategize, we cut deals in a tactical way and we hold ourselves hostage to our own rhetoric."
He also blamed "the Israeli occupation" for the PA's problems, citing things such as "settlement expansion, demolitions, evictions and military incursions even into areas nominally under Palestinian control."
"I told President Obama the shack must come before the skyscraper," he was quoted as having told the New York Times. "The Israelis have not rolled back the occupation gene. Let's make sure our Bedouin population in the Jordan Valley has access to drinking water before we discuss final arrangements. This is a right-to-life issue for Palestinians."
PA Chairman Mahmoud Abbas accepted Fayyad's resignation in April after a weeks-long falling out between the two and despite U.S. efforts for Fayyad to stay on.
Fayyad is considered a moderate by the West and was hailed as a "strong partner" by the U.S. and Canada after his resignation, yet he has called to free all PA resident Arabs imprisoned in Israel, despite the fact that many are serving time for terror-related offenses, including murder and attempted murder; some were imprisoned for other violent crimes including assault and rape.
He has also accused Israel of causing the death of 200 prisoners through medical neglect, torture or murder. In the past, Fayyad also blamed Israel for the PA's financial crisis, ignoring the fact that the PA pays huge monthly salaries to terrorists imprisoned in Israeli jails. Israel recently discovered that it was none other than Fayyad himself who ordered several years ago that these salaries be tripled.