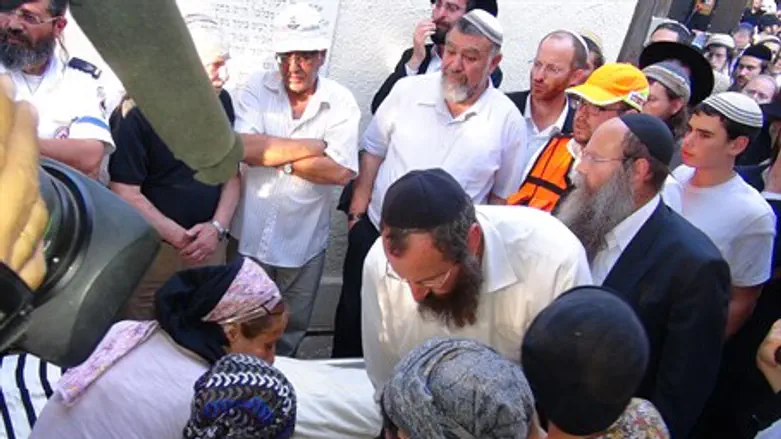 Tzofia Borovsky
Hezki Ezra
Tzofia Borovsky, the widow of Evyatar Borovsky who was murdered by a terrorist at the Tapuach Junction on Tuesday, is calling on the State of Israel to respond to the terror attack which killed her husband.
"He always thought about whether to use a gun and I was always tense. The terrorist should have been killed on the spot," she said painfully in an interview with Channel 10 News on Wednesday. "Terrorists should be killed, not left alive."
Borovosky added, "The murder could have been prevented if there had been a security barrier there. The Arabs are never checked and have free access. They can come in carrying anything. It makes no sense that the State cannot guard the residents of Judea and Samaria."
She noted that "an official response by the State to the terror attack would be best, but if there is no response from the State, there will be a response on our part."
Also on Wednesday, iconic nationalist activist Baruch Marzel said that the only way to deal with terrorism is to kill terrorists.
"This terrorist should never even have reached the hospital," he said. "We need to educate our soldiers and police officers that the State of Israel has no interest in keeping a terrorist alive. A living terrorist is a burden – he gets medical treatment, dozens of police officers guard him, the medical system invests in him the amounts of money it doesn't have to invest in other people."
Samaria Regional Council head Gershon Mesika criticized the Israeli government following the fatal terrorist attack, saying, "This despicable murder was the direct result of inadequate action on rock-throwing terrorism, of opening the checkpoints, and of treating daily terrorist attacks as 'disturbances.'"
One month ago Mesika urged the IDF to begin responding to rock attacks with live fire, and warned that the lack of a harsh response was creating "anarchy."