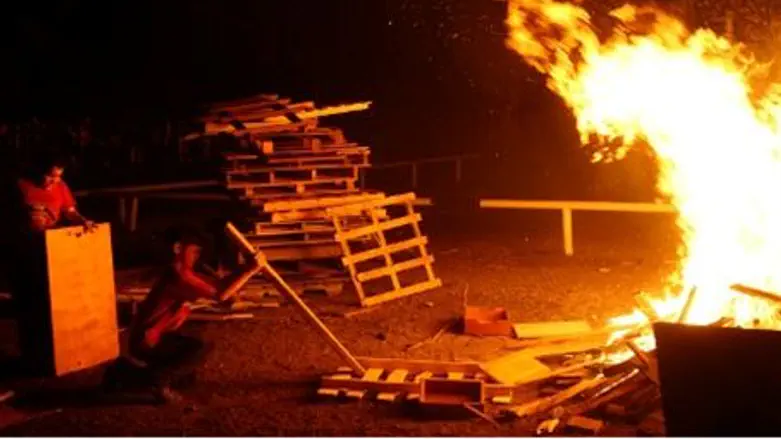 Lag B'Omer bonfire
Israel news photo: Flash 90
Pilgrims arrived on Friday at Tunisia's Ghriba synagogue, the oldest in Africa, expressing hope that this year would mark a turning point for the ritual despite a rise in Islamist unrest since the 2011 revolution.
The three-day pilgrimage is taking place amid tight security, with reinforcements deployed around Djerba, the Mediterranean resort island that houses the synagogue, the AFP news agency reported.
More than a dozen army trucks were stationed at Ghriba itself, where an Al-Qaeda attack in 2002 killed 21 people, with police checkpoints set up around the nearby Jewish neighborhoods and on the road linking the airport to the tourist zone, the report said.
Organizers hope to welcome at least 1,000 pilgrims on Sunday, including some 500 foreigners, among them several dozen Israelis, as well as members of Tunisia's diminished Jewish community. In the past, thousands would flock to the synagogue for the annual Lag Ba'Omer pilgrimage.
On Friday, a small crowd  gathered inside the 2,500-year-old synagogue saying prayers, lighting candles and singing, reported AFP.
The anticipated number of pilgrims is still far below the 8,000 that came before the 2002 attack, and even the 3,000 that had returned prior to the revolution that toppled former strongman Zine El Abidine Ben Ali in January 2011.
The event was cancelled that year with the country on edge after the mass uprisings, but it resumed discreetly in 2012 and no incidents were reported.
Kamel Essid, an adviser at the religious affairs ministry, said he had come "to show our Jewish brothers that we respect all religions." The Muslim official added that it was the government's "duty" to make every effort to ensure the gathering's success.
Friza Haddad, a Tunisian singer and familiar voice at the annual Ghriba ceremonies, said he wanted to believe there was a future for the pilgrimage, on an island where Jews and Muslims have coexisted harmoniously.
"Here there is no problem, we live as a community. There are Jews here, and Muslims there," he told AFP. "But it's only on Djerba that things are like that. In the last two years there have been problems elsewhere" in Tunisia,.
The once-banned Islamist Ennahda party received 89 out of 217 seats, more than triple the seats won by any other party, in Tunisia's first democratic election after the revolution. It subsequently said that Islamic law will not be enshrined in the country's new Constitution.
Tunisia's president, Moncef Marzouki, has called on the country's Jewish population to return to his country, saying Tunisia's Jews are full-fledged citizens and those who had left the country were welcome to return.
But while the organizers of the annual pilgrimage express confidence in the security arrangements at Djerba, other groups have raised concerns over an apparent rise in anti-Semitic language, accusing the authorities of not taking the problem seriously.
(Arutz Sheva's North American Desk is keeping you updated until the start of Shabbat in New York. The time posted automatically on all Arutz Sheva articles, however, is Israeli time.)