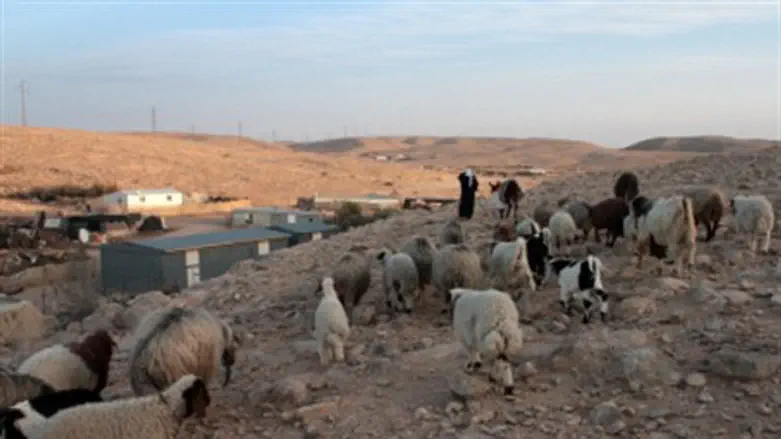 Bedouin settlement
Israel news photo: Flash 90
Radio and personality Avri Gilad visited the Negev on Thursday with the Regavim movement, and came back shocked and appalled.
"There is no more Negev," he wrote on Facebook. "The Bedouins took it all."
"It's unbelievable," he continued. "They're killing the Jewish farmers. The Bedouins are allowed, by turning a blind eye, to take whatever land they want, to steal whatever they want, to set fire to the property of whoever they don't like, to threaten to murder whatever moves, to throw grenades, carry weapons, attack vehicles, whatever."
Gilad noted that the government has agreed to give Bedouin clans in the Negev over 60 percent of the land they have illegally settled on. "After all this, along comes Benny Begin… and offers them 63% of the territory that they are claiming – with no proof – belongs to them," he wrote.
"We have to stop the Begin plan immediately," he stated. "We have to reconquer the Negev."
"We have to have one law for everyone – both for a Jew who closes in his balcony [without authorization] and for a Bedouin who uses a fence he stole from Omer to fence in five dunams of land as his," he said.
Regavim is a movement which calls to enforce laws against unauthorized construction in the Arab and Bedouin sectors, where authorities sometimes avoid law enforcement altogether in order to avoid clashes. The group reports that there are 2,100 Bedouin communities in the Negev that were established without authorization and which cover a total of over 800,000 dunams.
While many Negev Bedouin respect Israeli law and even serve in the IDF, the region is also home to several Bedouin crime families and drug-smuggling rings. Bedouin criminals often target Jewish farms in violent attacks. There is also a growing trend of Bedouin men forming predatory relationships with young Jewish girls, which begin as "dating" between grown men and young teenagers and culminate with abduction and rape.