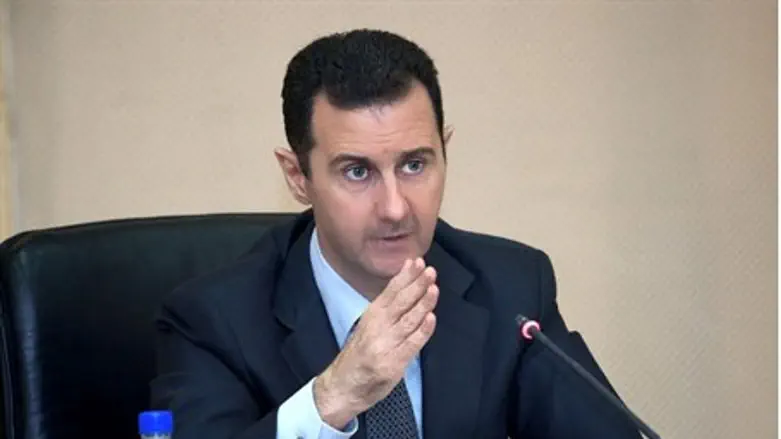 President Bashar al-Assad
AFP photo
U.S. Senators said on Thursday it was time to intervene in Syria, after the United States said for the first time that Syria had likely used chemical weapons against rebel forces.
Sen. Robert Menendez, Chairman of the Senate Foreign Relations Committee, said in a statement that President Bashar Al-Assad had "crossed a red line" and that the international community should act to ensure his fall.
"The situation in Syria is clearly deteriorating. The Assad regime has crossed a red line by using chemical weapons, which forces us to consider all options as to how we act to influence the balance of the conflict," said Menendez. 
"Among these options would be the enforcement of an internationally-recognized no-fly zone, providing lethal assistance to vetted opposition forces, and sanctioning the transfer of arms to the regime," he added. "The greatest humanitarian crisis in the world exists in and around Syria. It is clear that we must act to assure the fall of Assad, the defeat of extremist groups, and the rise of democracy. We must do everything possible to prevent the regime's use of chemical weapons and to ensure those stockpiles are secure."
Senior U.S. Senator John McCain gave a hawkish response to the intelligence assessment, insisting the U.S. military should have already intervened in Syria.
"I think it's pretty obvious that a red line has been crossed," McCain said, according to AFP.
"We should have intervened long ago, whether (Bashar al-Assad) was using them (chemical weapons) or not. He slaughtered 80,000 people while we sat by and watched. It's been one of the most shameful chapters in American history," he added.
California Senator Dianne Feinstein, who chairs the Senate Intelligence Committee, said the assessment that Assad may have used chemical weapons demanded a strong response from the international community.
"The world must come together to prevent this by unified action which results in the secure containment of Syria's significant stockpile of chemical weapons," Feinstein said.
Earlier Thursday, the U.S. said that while Syria had likely used chemical weapons against rebels, spy agencies were still not 100 percent sure of the assessment.
"Our intelligence community does assess with varying degrees of confidence that the Syrian regime has used chemical weapons on a small scale in Syria," U.S. National Security Council spokeswoman Caitlin Hayden said.
The assessment, which she said was based in part on "physiological samples," points to the possible use of sarin, a man-made nerve agent used in two attacks in Japan in the 1990s. It can cause convulsions, respiratory failure and death.
A senior White House official said that "all options are on the table" should use of the chemical weapons be confirmed, but a U.S. defense official stressed that a military intervention was not imminent and signaled spy agencies had differing opinions.
U.S. Defense Secretary Chuck Hagel, speaking in Abu Dhabi, said the decision to release the intelligence report had been "made within the past 24 hours" and warned that use of such weapons "violates every convention of warfare."
President Barack Obama said in the past that Assad using chemical weapons would be considered crossing a "red line".
Earlier this week, an Israeli general in military intelligence alleged that Syria had used chemical agents more than once during the protracted civil war, after Britain and France had voiced similar concerns to the United Nations.
Asked if the intelligence assessment meant that Syria had passed the declared "red line," Hagel said that was a policy question and that his task was to provide the U.S. president with "options."
Chemical weapons are "uncontrollable deadly weapons" that most leaders view as being in a "different category," Hagel said at the end of a Middle East tour of Israel, Jordan, Saudi Arabia, Egypt and the United Arab Emirates.