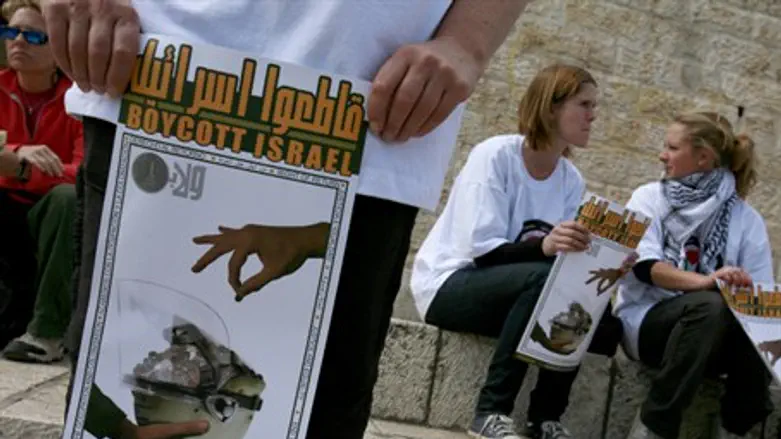 posters calling to boycott Israel
Flash 90
EU foreign ministers, among them Britain's William Hague and Laurent Fabius of France, have said they will back EU efforts to label products from Israeli communities in Judea, Samaria and eastern Jerusalem, according to a letter obtained by AFP on Friday.
"We warmly welcome your commitment to work with fellow commissioners to prepare EU-wide guidelines on the labelling of settlement produce," said the letter by 13 ministers, addressed to EU foreign policy chief Catherine Ashton and dated April 12.
"This is an important step to ensure correct and coherent application of EU consumer protection and labelling legislation, which is in fulfillment of our previous commitments and is fully consistent with long-standing EU policy in relation to Israeli settlements in the Occupied Palestinian Territories," the letter said, according to AFP.
"We stand ready to assist you in taking forward this important work," added the signatories, which also included the chief diplomats of Austria, Belgium, Denmark, Spain, Finland, Luxembourg, Malta, the Netherlands, Portugal, Ireland and Slovenia.
Britain and Denmark have been at the forefront of calls for clear and unambiguous labelling of products from Judea, Samaria, and eastern Jerusalem, noted AFP.
Israeli foreign ministry spokesman Yigal Palmor said on Friday that, by concentrating on Israel, the campaign was unfair.
"This whole labelling initiative is fundamentally discriminatory as it singles out one country and one area for labelling," he told AFP. "Surely the EU feels strongly about quite a wide number of areas in controversy around the world and indeed in Europe itself."
He added, "If the labelling initiative had been universal and should it affect all controversial areas then it would have been a fair measure."
In February, the EU formally recommended that its 27 member states "prevent" Israeli activity in Judea and Samaria through an economic boycott of Jewish communities in those regions.
The EU's boycott recommendation came to light in the publication of the EU's Jerusalem Report 2012, in which the European body recommends its members avoid financial transactions with Israeli communities in Judea and Samaria.
A week after the recommendation, the Dutch government issued a first of its kind directive to retail chains in the country, telling them to mark Israeli products that were manufactured in Judea, Samaria, eastern Jerusalem and the Golan Heights.
Elsewhere in the world, South Africa last week imposed new rules requiring that goods imported from Judea, Samaria and eastern Jerusalem display special labels.
The new rules stipulate that goods will no longer carry "Made in Israel" labels but instead will have to be specific about the exact origin of the goods.
(Arutz Sheva's North American Desk is keeping you updated until the start of Shabbat in New York. The time posted automatically on all Arutz Sheva articles, however, is Israeli time.)