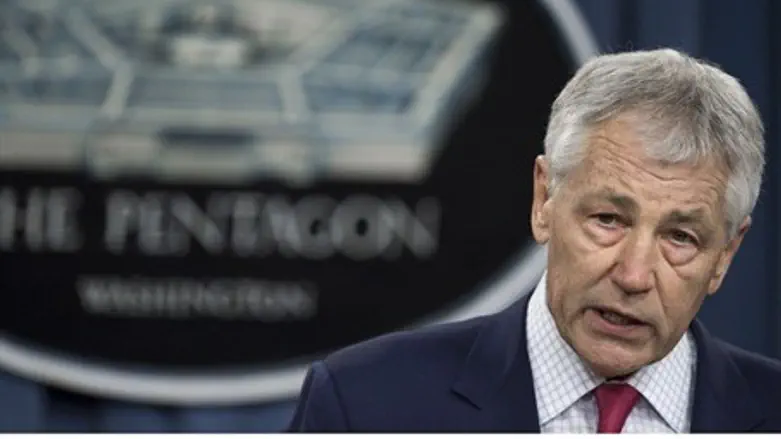 US Secretary of Defense Chuck Hagel
AFP photo
The U.S. Defense Department is expected to finalize a $10 billion arms deal with Israel, Saudi Arabia and the United Arab Emirates next week that will provide missiles, warplanes and troop transports to help them counter any future threat from Iran, according to a Friday report in The New York Times.
A week-long visit to the region by Defense Secretary Chuck Hagel will culminate a year of secret negotiations on a deal that Congressional officials said will be second only to the $29.5 billion sale of F-15 aircraft to Saudi Arabia announced in 2010, said the report. The officials noted that the delicate balancing act that was necessary in weighing the differing interests of each nation made the deal among the most complex ever negotiated.
While one goal was to ensure that Israel continues to field the most capable armed forces in the region to deter Iran and counter a range of threats, it was equally important to improve the capabilities of two important Arab military partners, noted the Times. Another challenge, senior administration officials said, was coming up with a package that could help Israel deal with various security challenges — but devised so it would not be viewed as an American endorsement of accelerated planning by Israel to strike alone at Tehran's suspected nuclear facilities.
The objective, one senior administration official said, was "not just to boost Israel's capabilities, but also to boost the capabilities of our Persian Gulf partners so they, too, would be able to address the Iranian threat — and also provide a greater network of coordinated assets around the region to handle a range of contingencies."
Those other security risks, officials told the Times, include the roiling civil war in Syria as well as terrorist violence in the Sinai Peninsula.
Under the agreement, each country would be allowed to purchase advanced armaments from American contractors. In the case of Israel, there is also substantial American financial assistance, topping $3 billion in military aid this fiscal year.
Israel would buy new missiles designed to take out an adversary's air-defense radars, as well as advanced radars for its own warplanes, new refueling tanker planes and — in the first sale to any foreign military — the V-22 Osprey troop transport aircraft.
The United Arab Emirates would buy 26 F-16 warplanes, a package that could reach $5 billion alone, along with precision missiles that could be launched from those jets at distant ground targets. Saudi Arabia would buy the same class of advanced missile.
The expectation is that the arms sale, which was outlined to Congress on Thursday, will encounter little opposition from lawmakers, especially from members representing the many districts where defense contractors are concerned about the impact of cutbacks in the Pentagon's own weapons budget.
Under the terms of the deal, reported the Times, Israel would be allowed to buy the tilt-rotor V-22 Osprey, an aircraft that can take off and land like a helicopter but fly with the speeds and range of an airplane. Israel could use the Osprey for patrolling its borders, coastline and out to sea, and for moving troops to troubled areas.
A new generation of KC-135 refueling tanker planes would let Israel's warplanes stay in the air longer, an ability essential for any long-range mission, such as a strike by Iran, noted the report. The tankers would also be useful for air patrols protecting Israeli borders.
Israel also would receive anti-radiation missiles, reported the Times. Launched from a warplane, they can home in on an adversary's air-defense radar signals and destroy those sites. New, advanced radars for Israel's military jets also would be in the package.
Administration officials declined to identify the new missile to be sold to Saudi Arabia and the United Arab Emirates, except to say that it is an advanced class of precision "standoff munitions" — those designed to be launched from warplanes safely distant from ground targets.
Hagel will visit Israel on Sunday, and will move to finalize the arms deal with Defense Minister Moshe Yaalon. Hagel will finalize the deal with Saudi Arabia and the United Arab Emirates in visits to the two countries later next week, reported the Times.
Hagel's visit to Israel comes days after the Pentagon requested $220.3 million in 2014 to bolster Israel's Iron Dome missile defense system.
The U.S. Missile Defense Agency also is asking for an additional $175.9 million in fiscal year 2015 for Israel's homegrown missile defense network, according to the agency's budget proposal posted online.
The Pentagon already invested $204 million on the system in 2011 and $70 million in 2012.
Hagel promised former Defense Minister Ehud Barak in March that Washington would continue to fund anti-missile weaponry, including Iron Dome, despite fiscal pressures.
(Arutz Sheva's North American Desk is keeping you updated until the start of Shabbat in New York. The time posted automatically on all Arutz Sheva articles, however, is Israeli time.)