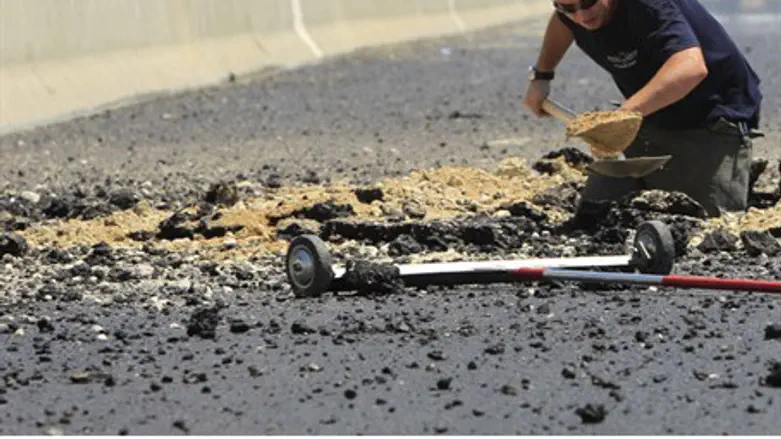 Removing rocket fragments after attack
Israel news photo: Flash 90
A Salafi Muslim jihadist group has claimed responsibility for Wednesday morning's rocket attack on the Israeli Red Sea resort city of Eilat.
"The lions of the Mujahedeen Shura Council in the Environs of Jerusalem managed to target occupied Eilat with two Grad rockets on the morning of April 17, and withdrew safely," a statement posted on jihadist web sites said. There were no details indicating the site from where the rockets had been launched, AFP reported.
However, a spokesperson for the Israel Defense Force said the rocket fire had been traced to Egypt's Sinai Peninsula, a region which has become a hotbed of terrorist activity since the fall in 2011 of former Egyptian President Hosni Mubarak.    
Egyptian military said it was still checking the source of the rocket fire. "We are still investigating to see if they were delivered from Egyptian territories but nothing is confirmed yet," a senior military official told AFP. 
The two rockets slammed into the city of Eilat at about 9:00 a.m. Wednesday, one exploding in the back yard of a private home, the other landing in an open area. 
Although a number of people suffered severe anxiety and shock as a result of the attack, no one was physically injured and no property damage was reported.
Authorities ordered a temporary closure of the local Eilat airport as a safety precaution, and a flight to the area from Ben Gurion International Airport was canceled. However, schools in Israel's southernmost Negev city remained opened despite the rocket fire.
Israeli media quoted unnamed Jordanian sources who said the Jordanian port city of Aqaba, located across the bay from Eilat, may also have been hit by rocket fire at about the same time as Eilat. The report was unconfirmed, however, and Jordanian government officials raced to deny the report.
Eilat was also struck by rocket fire a number of times last year in attacks launched from Sinai, at least one of which was claimed by an Islamist group calling itself Ansar Jerusalem.