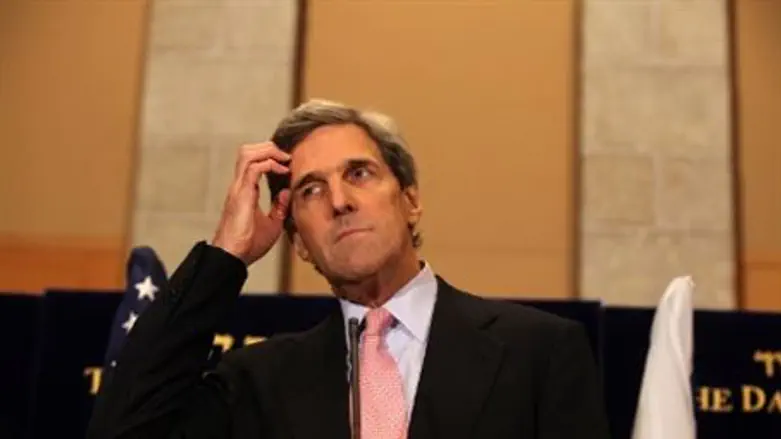 US Secretary of State John Kerry
Israel news photo: Flash 90
U.S. Secretary of State John Kerry has dangled the option of direct talks before North Korea, in exchange for Pyongyang dropping its nuclear ambitions -- primarily, its threat to rain nuclear destruction upon America. 
Kerry made the offer during a meeting Sunday with a small group of journalists in Tokyo as he wrapped up a nine-day Asian tour, according to McClatchy. 
"We are prepared to reach out, but we need an appropriate moment, appropriate circumstance," Kerry said.  
One of the main players in America's effort to maneuver the circumstance is China, North Korea's sole supporter at this point. 
The main supplier of food and fuel to the regime of Kim Jong-un, China nevertheless appears to have joined the rest of the world in drawing a line in the sand for Pyongyang after a Western intelligence report confirmed last week that North Korea had achieved its goal in creating a nuclear weapon.
Kerry told reporters he would not rule out back-channel talks via Chinese leaders, nor direct negotiations – but in either case, the U.S. first wanted to see a commitment from North Korea towards ending its nuclear technology program.
"I'm not going to be so stuck in the mud that an opportunity to actually get something done is flagrantly wasted because of a kind of predetermined stubbornness or something," Kerry said. "I think you have to keep your mind open."