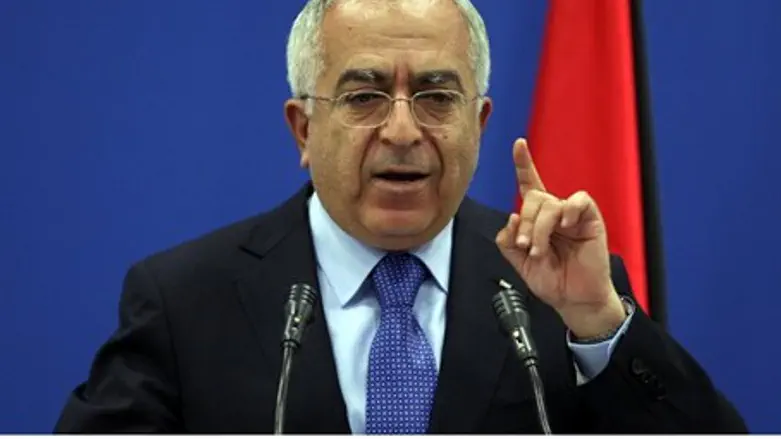 Salam Fayyad
AFP photo
The Palestinian Authority was on Sunday mulling the prospect of a new prime minister after Salam Fayyad resigned following months of tension with Chairman Mahmoud Abbas, AFP reports.
The resignation of Fayyad, a U.S.-educated economist who won international acclaim for his state-building efforts and who was hailed by the West as a moderate, came despite U.S. efforts to head off the crisis.
Abbas accepted Fayyad's resignation at a brief meeting in Ramallah on Saturday, but officials said he had asked the 61-year-old to stay on in a caretaker role until a new premier can be appointed.
So far, there is no clear frontrunner to take up the post which has been held by Fayyad since 2007, reported AFP.
Possible successors include Mohammed Mustafa, head of the Palestine Investment Fund, and businessman and former economy minister Mazen Sinokrot who has good relations with Gaza's Hamas rulers.
Abbas himself could also take on the role within the framework of a "national unity government", as foreseen by a reconciliation agreement between Hamas and his Fatah movement.
Rumors that Fayyad would either resign or be told to step down by Abbas have been rife in recent weeks after long-standing differences between the two came to a head over the finance portfolio.
Fayyad, a political independent, had come under increasing criticism as the Palestinian Authority lives through its worst-ever financial crisis, with Fatah openly deriding his economic policies as "confused."
Long-running tensions between Fayyad and Abbas came to a head six weeks ago over the resignation of finance minister Nabil Qassis, with Fayyad accepting it while Abbas did not.
Fayyad himself was finance minister for five years from 2002, and after being appointed premier in 2007 he continued to hold both portfolios until Qassis took over in May 2012.
He was deeply unpopular with Fatah, with a top official from the party's Revolutionary Council on Sunday expressing relief at his departure.
"Fatah is relieved over Fayyad's timely resignation which was inevitable," secretary general Amin Maqbul said, according to AFP, adding Fayyad's government had "failed miserably" to steer the economy through the economic crisis.