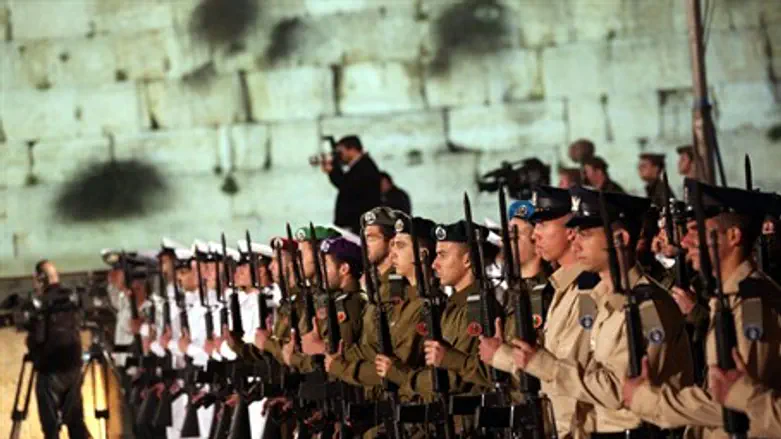 Memorial Day ceremony
Israel news photo: Flash 90
The official ceremony marking Memorial Day for the IDF's Fallen Soldiers, in which Israel remembers and honors its fallen soldiers, began Sunday evening at 8:00 p.m. at the Kotel. President Shimon Peres addressed the ceremony,
According to numbers published by the Defense Ministry, since the year 1860 -- when Jews founded the first neighborhood in Jerusalem outside of the Old City -- 23,085 soldiers and members of the security forces died in the line of duty, including 92 in the past year.
Prime Minister Binyamin Netanyahu made the following remarks Sunday:
"Today, the State of Israel honors the memory of its fallen, our soldiers and our people who fell in Israel's wars and in the terrorist attacks. From the moment the state was established, it has not ceased to wish for peace with its neighbors, and to the same degree, its enemies have not ceased from their aspiration to wipe it off the face of the earth.
"We are here thanks to Israel's fighters who joined the struggle for our existence, thanks to those who survived the wars and thanks to those who fell. We do not forget, even for a second, that we are here thanks to the fallen.
"Today, while the accumulated threats against the State of Israel are greater than in the past, both the IDF and our security services are stronger than ever. We will continue to strengthen our security, we will continue to aspire for peace with our neighbors, and we will continue to ensure the future of our country."