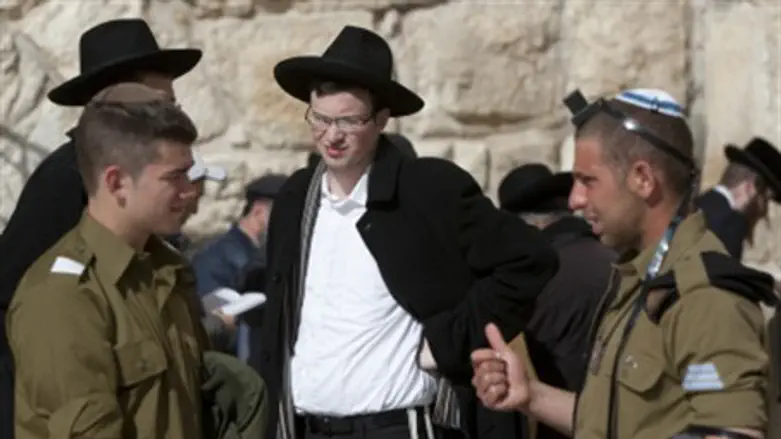 Soldiers, hareidim
Israel news photo: Flash 90
The Perry Committee, which is to hammer out a new formula for enlistment of hareidim to the military, held its first session Sunday.
The session was opened by the Committee's head, Minister of Science, Technology and Space, Yaakov Perry (Yesh Atid), who asked all of the participating government ministries to cooperate fully with the committee's work.
He chose what some would call an unfortunate turn of phrase to describe the committee's attitude toward finding a formula for hareidi enlistment, saying the committee would work in a way that was "sensitive but determined."
"Sensitive but determined" was the phrase used by the government of Ariel Sharon to describe its approach toward the ill-fated Disengagement in which almost 10,000 Jews were evicted from their homes in Gaza and northern Samaria, and their communities razed.
Minister of Culture and Sports Limor Livnat (Likud) said at the session that the solution needs to be implemented in a way that was "balanced, gradual, just and fair, while making sure not to create brotherly strife and not to incite one sector against another."
Minister of Housing and Construction Uri Ariel (Bayit Yehudi) said that he was "happy to discover at the very start that the atmosphere of the discussions is positive." He added, "I give my commitment that we will act to create discussion and connection between the different sectors, in order to reach a formulation that reflects the Nation of Israel's principle of mutual responsibility. Despite different voices being heard in the political system, there is no discourse if hatred and boycotts here, and I am sure that the public understands this."