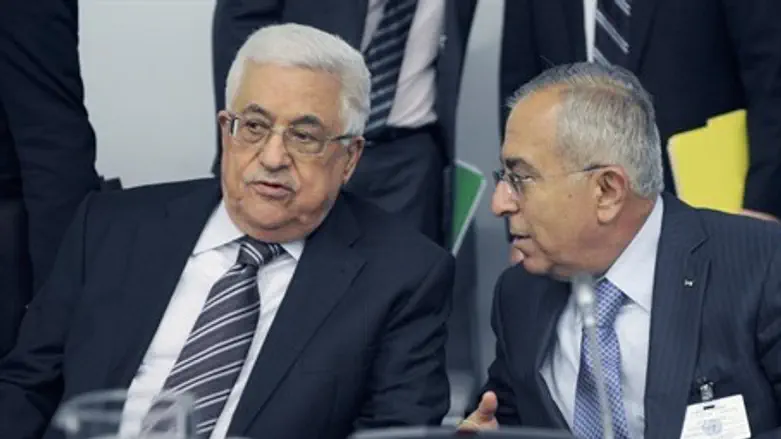 Abbas and Fayyad
AFP photo
Palestinian Authority Chairman Mahmoud Abbas accepted on Saturday the resignation of his prime minister Salam Fayyad, AFP reports.
Fayyad resigned after a weeks-long falling out Abbas, despite U.S. efforts for him to stay on, the report said.
"Fayyad met Abbas for half an hour in the president's headquarters in Ramallah in the West Bank and officially handed him his written resignation," a Palestinian official told AFP.
Abbas tasked Fayyad with the role of caretaker for the current government until a new prime minister is appointed, another official told the news agency.
The two men have been at odds amid mounting criticism of Fayyad's economic policies by Abbas's ruling Fatah movement, but Washington has lobbied hard for the 61-year-old, U.S.-educated economist to stay on.
Late on Friday, U.S. Secretary of State John Kerry telephoned Abbas to press him to find common ground with his prime minister, PA officials said.
Rumors that Fayyad would either resign or be told to step down by Abbas have been rife in recent weeks after longstanding differences between the two leaders came to a head over the finance portfolio.
Finance minister Nabil Qassis announced on March 2 that he was standing down. Fayyad agreed to the resignation but Abbas, who was abroad at the time, rejected it.
A senior PA official said Fayyad had had his letter of resignation prepared since March 23 but put off submitting it because of a visit to the region by U.S. President Barack Obama and Abbas's overseas trips.
Fayyad held the finance portfolio as well as the premiership before Qassis's appointment in May 2012.
A meeting planned for Thursday at which Fayyad reportedly intended to hand in his resignation was postponed after Washington insisted that to the best of its knowledge the prime minister was "sticking around."
Last week, the Fatah Revolutionary Council for the first time openly criticized the Fayyad government's economic policies.
The rival Hamas movement, which rules Gaza, said the resignation was a result of "divisions within Fatah."
"Fayyad left the government after riddling our people with debt and Fatah must assume responsibility because it imposed him from the start," Hamas spokesman Sami Abu Zuhri told AFP.
He said the departure of Fayyad, who is deeply unpopular with Hamas, was unrelated to the long-stalled talks on a reconciliation between the two movements and the formation of a unity government.