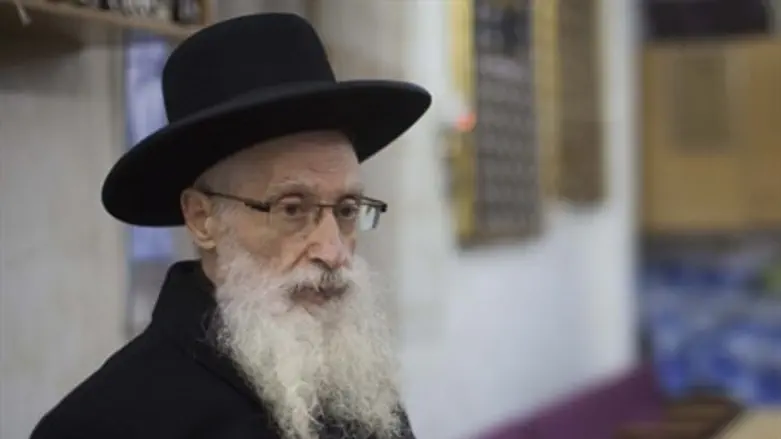 Rabbi Yaakov Yosef
Flash 90
Rabbi Yaakov Chai Yosef, rabbi of the Givat Moshe neighborhood of Jerusalem and son of Shas's spiritual leader Rabbi Ovadia Yosef, Shlita, passed away on Friday afternoon at the Hadassah Ein Kerem Hospital.
His funeral has left the Borochov Synagogue in the Bucharim neighborhood of Jerusalem for the Har Hamenuchot Cemetery. Despite the approaching Sabbath, thousands crowded the surrounding streets and rooftops and accompanied the funeral cortege.
Rabbi Yosef was born in 1946 in Jerusalem, the second child of Rabbi Ovadia Yosef and the late Margalit Yosef. He studied at Yeshivat Porat Yosef and Yeshivat Kol Torah, at Kollel Kol Yaakov and at the Mossad HaRav Kook in Jerusalem, where he was ordained as a rabbi.
Between 1983 and 1984 he served as a member of the Jerusalem City Council on behalf of the Shas party. Ahead of the elections to the 11th Knesset, he was placed on the Shas list, when it first ran in the Israeli elections, and was elected to the Knesset. During his tenure as an MK he served on the Constitution, Law and Justice Committee, the Education and Culture Committee, and the parliamentary investigation committee into road accidents.
Over the years, Rabbi Yosef delivered regular weekly sermons in various neighborhoods in Jerusalem, which were characterized by a simple, popular style and which caused him to be loved and revered by many.
Rabbi Yaakov founded and headed the Hazon Yaakov (lit. Jacob's Vision) yeshiva, named for his grandfather, Rabbi Yaakov Ovadia. His students rent their clothes upon hearing of his passing.
He was a staunch supporter of the settlement of Judea and Samaria, a member of the Save the Land and People Organization, and was vehemently opposed to any compromises that meant giving up land to Arabs.
On Friday afternoon there was a sudden deterioration in the condition Rabbi Yosef, who has been suffering from cancer for about a year. He had been hospitalized in serious condition since last Thursday.
On Tuesday, hundreds gathered in the Har Hamenuchot cemetery to pray for Rabbi Yosef.
The prayer rally was held at the tomb of Rabbi Chaim Yosef David Azulai, also known as the Hida.
Prime Minister Binyamin Netanyahu expressed his deep sorrow on Friday afternoon over the passing of Rabbi Yaakov Yosef.
"Rabbi Yosef was a great Torah scholar, teacher and a posek who followed in the footsteps of his father, may he have a long life," said Netanyahu.