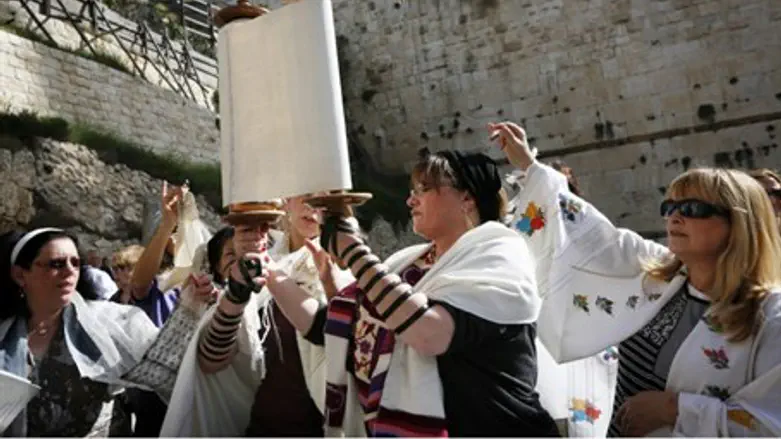 Women of the Wall
Flash90
Rabbi Shmuel Rabinowitz, Rabbi of the Kotel and the Holy Places, on Thursday called on the Israeli public to "condemn and remove from their midst" the Women of the Wall group, whom he said had but one purpose - "to fan the flames of hatred and divisiveness among Jews."
Police arrested five women on Thursday morning at the Western Wall Plaza after they put on prayer shawls and began praying in a prayer quorum. The activity, which is generally repeated by them on Rosh Chodesh, the first day of the new Hebrew month, violates a High Court decision which prohibits organized women's prayer at the Plaza and mandates traditional Orthodox custom.
The Court had suggested a large area at the southern part of the Walll near Robinsons's Arch, several dozen meters from the Western Wall main Plaza, as a place for organized women's prayer, in order to ensure a minimum of conflict while ensuring the women's right to worship as they wish. Women of the Wall activists insist on praying at the Western Wall plaza. Jewish Agency chairman Natan Sharansky this week suggested development of the Robinson's Arch area to make it larger and available for mixed gender prayers and tried to persuade the group to accept the compromise.
In his statement, Rabbi Rabinowitz said that, as in the past, the fact that the group "came to the Kotel despite the compromise that Natan Sharansky attempted to promote shows that their entire purpose is to sow dissent and to injure the feelings of other Jews, while further dividing the Jewish nation and turning the Kotel into a battlefield for fanatics on both sides.
"Instead of seeing the Kotel as 'holy land,' they look at it as land to fight over, and are acting out in all meanings of the word," Rabinowitz's statement said. "We must all condemn this activity and uproot it from among us. We must find the things that we have in common, not concentrate on those that divide us," he added.
In an article on the subject, Arutz Sheva oped editor noted that hundreds of thousands of Jews immigrated to Israel from countries all over the world, bringing with them extremely varied customs for prayers. None requested mixed gender prayer or a change in the traditional rules at the Wall. The Supreme Court, in its decision, defended the right of those who come to the Wall daily, rather than those of a fringe group that comes one day a month.