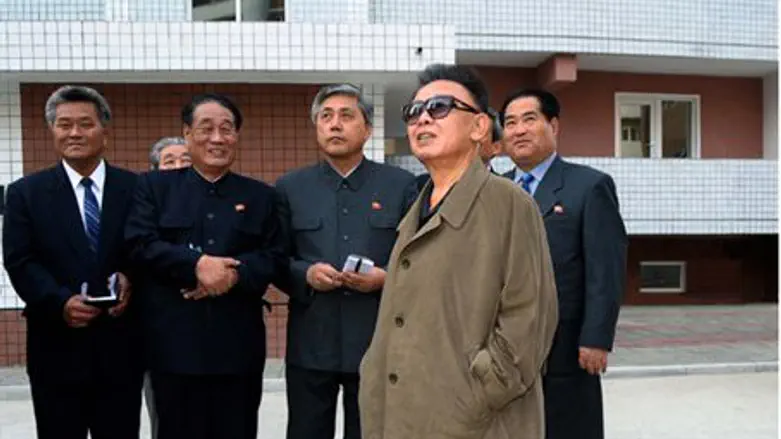 North Korean leader Kim Jong Il
Israel news photo: Republic of Korea
North Korea is approaching a "dangerous line," as two Musudan missile launchers are positioned on the east coast of North Korea.
The prospect of a launch are "considerably high," South Korea's Foreign Minister Yun Byung-se said Wednesday.
North Korean officials told foreign diplomats in Pyongyang they would not be able to guarantee their safety in the country after Wednesday. They also urged tourists in South Korea to 'take cover' and warned a nuclear war was imminent.
Most diplomats and foreign residents ignored the threat.
Much of the noise surrounding the military drama appears to be surrounding preparations for April 15, the 101st anniversary of the birth of Kim Il Sung, the founder of North Korea and the grandfather of Kim Jong Un.
In the city itself, soldiers and civil employees are hard at work beautifying the area ahead of the national holiday, planting flowers and trees. Students are attending school as usual.
Still, the untested medium-range Musudan missile has a range of 2,175 miles (3,500 kilometers), enabling it to fly over Japan, Yun told lawmakers in Seoul.  A launch would constitute the first mobile test of the missile.
The United States is also growing visibly impatient with the North Korean drama after long weeks of increasingly aggressive rhetoric aimed at America and its ally South Korea.
Pyongyang is "skating very close to a dangerous line," U.S. Defense Secretary Chuck Hagel warned Wednesday. "Their actions and their words have not helped defuse a combustible situation," Hagel told reporters in a briefing at the Pentagon. 
"Our country is fully prepared to deal with any contingency," he said, adding, "We have every capacity to deal with any action North Korea will take, to protect this country and the interests of this country and our allies."
Russian Foreign Minister Sergei Lavrov told CNN the same day that although his country is an ally and neighbor of North Korea, Russia will stand with the U.S. on a missile launch by Pyongyang.
"On North Korea, we have no differences with the United States," Lavrov said. "One just shouldn't scare anyone with military maneuvers and there's a chance things might calm down."
Pyongyang has also added a new tactic: the North was accused Wednesday by Seoul of carrying out a wave of cyber attacks that paralyzed computer networks in major South Korean banks and broadcast facilities, affecting some 48,000 computers.
North Korea has conducted three tests of nuclear weaponry since 2006, the most recent having been the launch of a satellite into space via a long-range rocket in December 2012.
Intelligence reports have indicated the North Korean missiles have received their liquid fuel and are loaded and ready to launch.  Lawmakers at a U.S. Senate Armed Services hearing were told Tuesday America may not shoot down a North Korean missile if its trajectory appears to take it out into the open sea. But if the missile's path appears to be headed to a U.S. ally such as Japan, the U.S. could take action to take it down.
Japan has already taken its own precautions. Prime Minister Shinzo Abe told journalists at a news conference Tuesday his government would "calmly" take whatever action was needed to address the North Korean threat to his nation.
China is also maintaining a calm, but cautious stance, with some agencies and tour groups canceling plans but with the Chinese-North Korean border still continuing to operate normally.