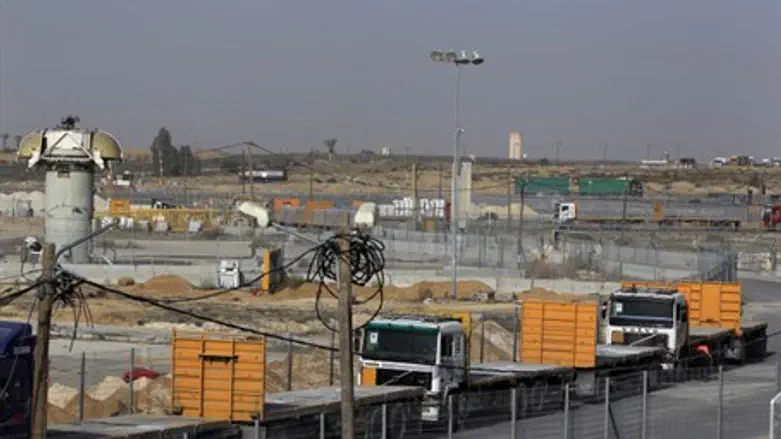 Kerem Shalom crossing
Flash 90
A UN humanitarian official said on Wednesday that Israeli sanctions on Gaza were hitting food supplies and would have "serious" effects if continued.
"In response to a deteriorating security situation in and around Gaza... Israel has announced a series of heightened restrictions on the movement of people and goods to and from the Gaza Strip, including closures of the Kerem Shalom crossing," UN Humanitarian Coordinator James W. Rawley said, according to AFP.
"These measures are resulting in the depletion of stocks of essential supplies, including basic foodstuffs and cooking gas, and undermine the livelihoods and rights of many vulnerable Gazan families," he said in a statement.
"If these restrictions continue, the effect upon the Gaza population will be serious."
Kerem Shalom, the only goods crossing from Israel into Gaza, was closed on Monday a day after a rocket was fired from Gaza into southern Israel.
The rocket attack was timed to coincide with the official Holocaust Remembrance Day ceremony taking place in Jerusalem at the same time.
The UN often blames Israel for Palestinian Authority Arab's woes, but fails to condemn the rocket attacks on Israel, despite requests by Israel's ambassador to do so.
Last week, the UN Relief and Works Agency (UNRWA) stopped food deliveries to Gaza after dozens of Gazans forced their way into the field office, demanding reinstatement of a monthly cash allowance to poor families which was halted from April 1 due to budget cuts.
The move angered Gaza's Hamas terrorist rulers. UNRWA decided to reopen its aid distribution centers after receiving guarantees from Hamas officials that its staff would be safe.