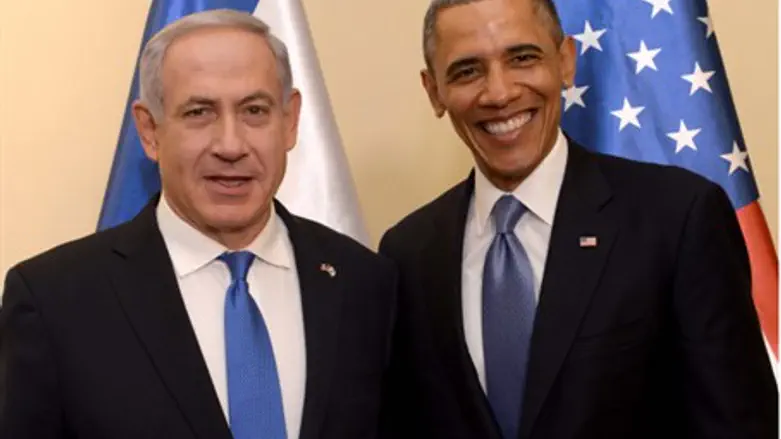 PM Netanyahu & President Obama
Flash 90
The planned U.S. budget for the coming year, which was announced by President Barack Obama on Wednesday, maintains and even increases the American defense aid to Israel, Channel 10 News reported.
According to the numbers published, the United States will provide Israel with $3.4 billion in defense aid, a record number, according to Channel 10.
The budget proposal submitted to Congress also includes a request for the addition of approximately $220 million to finance the Iron Dome anti-missile defense system, a request that was not included in last year's budget proposal, but was added later on.
Israel expressed concern last month over the possibility of a cut in the U.S. defense aid, after another crisis erupted between Democrats and Republicans regarding the debt crisis.
During his visit to Israel several weeks ago, Obama made clear that despite a budget crunch in Washington there would be no interruption to funding of Israel's Iron Dome anti-missile system.
Obama also said during the visit that Israel and the United States were opening talks on extending U.S. military aid to the Jewish state beyond 2017.
"As part of our long-term commitment to Israel's security, the prime minister and I agreed to begin discussions on extending military assistance to Israel," Obama told reporters.
"Our current agreement lasts through 2017, and we've directed our teams to start working on extending it for the years beyond," he added.
Obama's comments followed ones by Defense Secretary Chuck Hagel, who said during a meeting with former Defense Minister Ehud Barak last month that the U.S. would continue to assist in the development of defensive systems in Israel, including Iron Dome, the Arrow, and David's Sling, despite the budget cuts that the Pentagon is going to be forced into making due to the budget sequestration process.