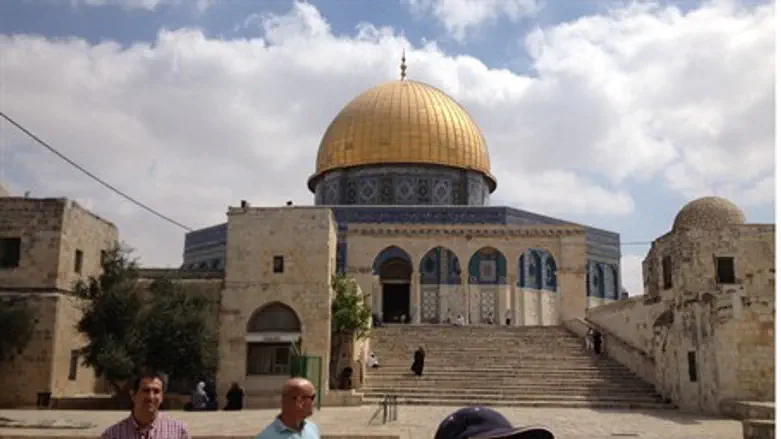 Visiting the Temple Mount
Israel news photo by John Hasten
Several Jews who visited the Temple Mount on Monday, Holocaust Memorial Day, say police officers at the holy site tried to get them to leave before the memorial siren sounded at 10 a.m. Police were apparently afraid of how Muslims at the site would react to the sight of Jews standing for the siren, they said.
Yaakov Heiman of Jerusalem was among those visiting the Mount on Monday. He told Arutz Sheva that he arrived at 9 a.m. with Rabbi Elboim and two others, intending to stay until 11 a.m.
At the entrance to the site the group was told to be out by 10 a.m. An officer said police would not have enough manpower to protect them from that time due to the need for a police presence at various memorial ceremonies.
The explanation seemed strange to Heiman and his companions, as usually just one officer accompanies Jews who can be easily identified as Jews when they visit the Temple Mount.
Rabbi Elboim, who guessed that the reason they had been asked to leave early was the upcoming siren, asked if they would be allowed to remain on the Temple Mount if they sat during the siren. A commander told them that if they stayed sitting, they could remain, Heiman said.
The four ascended to the Mount, but when the siren came, stood in a gesture of respect. That act clearly angered Muslim Waqf officials, who voiced anger to the police officer with them, Heiman said. The officer repeatedly told them to wait just two minutes for the siren to end.
When the siren ended the Waqf officials did not make further trouble.
Temple Mount activists have expressed frustration for years over what they term police discrimination against Jews at the holy site. Non-Muslims at the site are subject to several restrictions, including a prohibition on prayer or anything that could be interpreted as prayer.
The restrictions are motivated by a fear of Muslim riots at the site. The Shin Bet recently nabbed a Hamas-linked terrorist cell that attacked Jews on the Temple Mount.