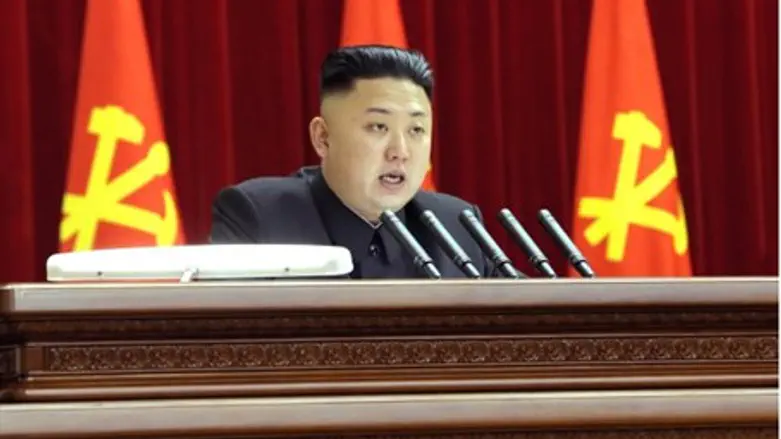 Kim Jong-Un
Reuters
North Korean lead Kim Jong-un is continuing to take steps towards initiating hostilities with South Korea and possibly the United States.
Pyongyang issued a statement Monday saying it would withdraw its workers from the Kaesong joint industrial park administered together with South Korea.
However, the North Korean government stopped short of saying it would permanently withdraw its workers from the site, leaving open the option for a return to normal operations.

"It will temporarily suspend the operations in the zone and examine the issue of whether it will allow its [continued] existence or close it," the North Korean official KCNA news agency said, quoting Kim Yang Gon, secretary of the Central Committee of the Workers' Party of Korea.
Meanwhile, United Nations Secretary-General Ban Ki-moon warned the North that any further nuclear testing would be considered a "provocative measure."
Ban added that North Korea cannot continue "confronting and challenging the authority of the Security Council and directly challenging the whole international community." 
He warned Pyongyang to obey the sanctions against its nuclear development activities, saying that he was offering "an urgent and honest appeal from the international community, including myself."
Ban's statement came in response to an alert by South Korea that there were signs North Korea was preparing to launch another nuclear test. However, a defense ministry spokesperson in Seoul later said that while activity had indeed been detected at the Punggye-ri underground test site, it appeared to be routine.
Israel neutralized a nuclear plant in Syria on September 6, 2007, that appeared to be under construction with the active assistance of North Korea.
Russian President Vladimir Putin issued a statement saying that as a neighbor of North Korea, his country was concerned about the rising tensions. He added that all parties should "calm down... and start to resolve the problems that have piled up for many years there, at the negotiating table," the BBC reported.