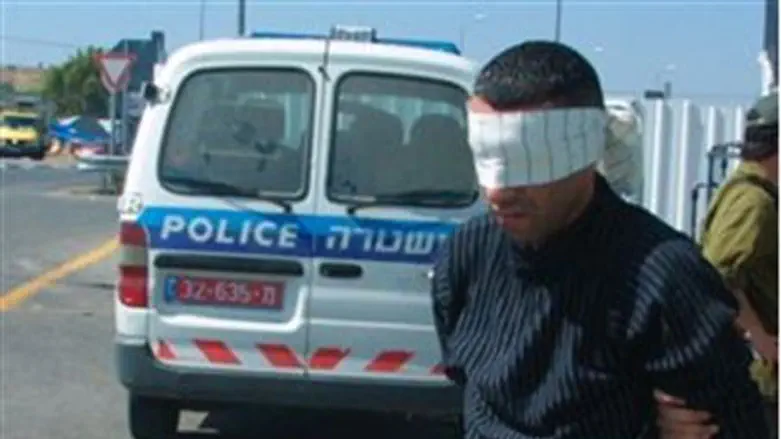 Terror suspect arrested (illustrative)
Israel news photo: Flash 90
Soldiers from the IDF's Kfir Brigade arrested a Palestinian Authority Arab terrorist, who was carrying four firebombs and three improvised explosive devices, at the Hawara checkpoint near Shechem on Sunday night.
A police sapper detonated the explosives in a controlled manner and the terrorist was detained for questioning by security forces.
Earlier on Sunday, the Shin Bet, Israel's internal security service, revealed that its operatives exposed a Hamas-linked terrorist cell in March. Members of the cell have been arrested.
The terror cell was behind recent violence on the Temple Mount. Among the attacks it carried out was a firebomb attack on police officers in which nine were injured.
Five people were arrested for membership in the terrorist cell. Most are residents of the Jerusalem neighborhood of Shuafat, an urban "refugee camp" where anti-Israel violence is not uncommon.
Last Wednesday, two PA Arab teens were killed when a group attacked an Israeli army post in Samaria. Amer Nassar, 17 and Najo Bilbisi,18, were both residents of the PA Arab village of Anbata. 
The two hurled deadly firebombs (Molotov cocktails) at the IDF post, a military source said in a statement.