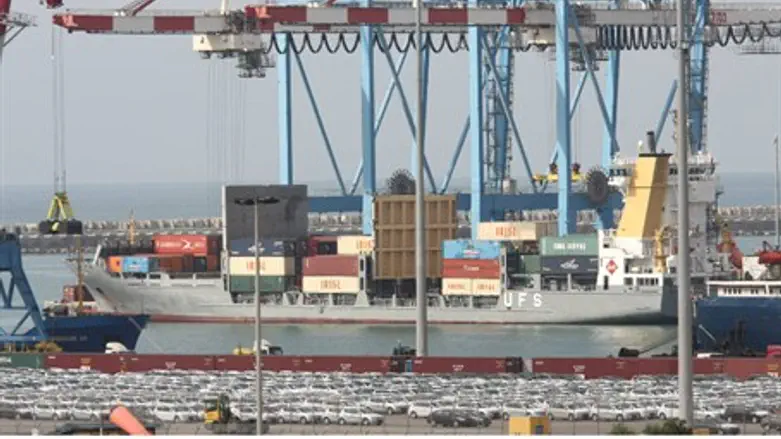 Ship seized by IDF (file)
Israel news photo: Flash 90
Egyptian maritime authorities have seized a ship with a crew of 14 and a cargo of 105 crates of unspecified weapons and ammunition, which belonged to an African security company, Egyptian security officials told AFP.
The military's spokesman Colonel Ahmed Mohamed Ali said on his Facebook page the ship belonged to a company that secures maritime routes in the Red Sea, a haven of Somalia-based pirates.
"The weapons and ammunition on this ship are related to its work and mission to secure commercial vessels," he said.
But Israel's Channel 10 television contradicted the Egyptian military's version, reporting that the boat was carrying 40 tons of Iranian weapons destined for Syria or Gaza.
No comment was immediately available from Israeli officials.
AFP noted that in his statement, Ali did not say whether the ship was released, but security officials had said the vessel would be held while authorities investigate whether it was carrying smuggled weapons.
According to a report by news website NOW, quoted in Lebanese website Ya Libnan, the ship, which was seized about ten miles away from the Ras Mohammad national park in the Sinai peninsula, was carrying more than 50,000 light and medium weapons as well "a huge quantity of ammunition."
People from several nationalities, including Iranians, were on board the ship, the report said.
The report also noted that the Egyptian authorities were still investigating to determine the final destination of the ship and whether it was heading for Gaza or aimed at arming insurgent groups in Sinai.
A completely different version of the event was carried earlier by AFP. It quoted Egyptian officials who said Thursday that Egypt's navy had seized a weapons-laden ship and detained its crew "who had set off from the Israeli port of Eilat en route to the African country of Togo."
The crew and vessel will be held in the Red Sea port of Safaga until the authorities ascertain whether the weapons were being smuggled, the officials added.