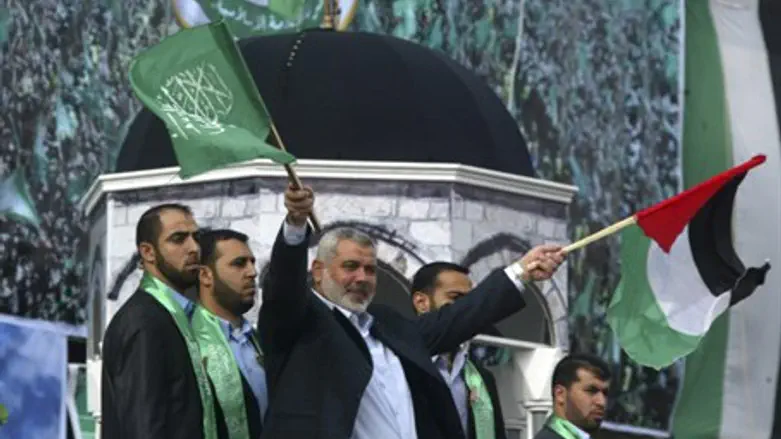 Hamas leader Ismail Haniyeh
Flash 90
At least two members of Hamas' top policymaking body are terrorists released in the deal to release Gilad Shalit. The terror group's politburo, announced Wednesday after meetings in Gaza, includes Yahya Snawar and Ruhi Mushtaha, both terrorists released in the Shalit deal, were among four new Hamas central committee members.
The Hamas central committee decides, among other things, what terror attacks to commit against Israelis, where to strike, and when.
Terrorists released in the Shalit deal were required to sign a document that forbids them from returning to terrorism. The releases for many of the thousand-plus terrorists released in the deal were considered parole from a legal point of view, so Snawar and Mushtaha are, at least technically, violating the terms of their parole by associating with a terror group, Israeli attorneys said. There was no comment from the government on the naming of the two to the Hamas politburo.
Along with the appointment of the new committee members, Hamas decided to appoint the head of the terror group in Gaza, Ismail Haniyeh, as the deputy head of the political wing of Hamas, headed by Khaled Masha'al. That position was formerly held by Hamas terrorist Musa Abu-Marzouk. Hamas sources said that Masha'al's rival, Mahmoud a-Zahar, failed to get elected to the committee altogether.