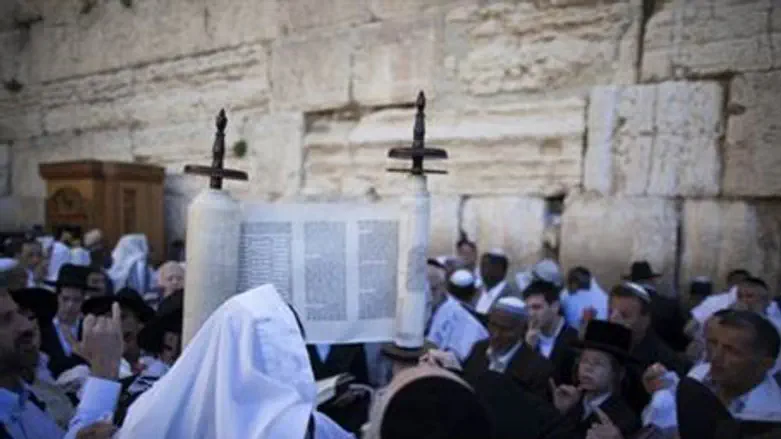 Kotel priestly blessing
Israel news photo: Flash 90
Thousands attended the traditional Passover priestly blessing, or Birkat Cohanim, at the Kotel on Thursday. The ceremony was attended by the two Chief Rabbis, Rabbi Shlomo Amar and Rabbi Yonah Metzger.
Devout Jews began streaming to the Kotel in the early morning hours, and private vehicle traffic into the Old City was blocked by police. Instead, the multitudes advanced toward the Kotel by foot and on public transportation.
The Kotel Rabbi, Rabbi Shmuel Rabinovich, estimated that tens of thousands of worshipers from all over Israel took part in the event.
After the blessing was delivered, the chief rabbis received worshipers individually and blessed them.
Deputy Minister of Religions, MK Rabbi Eli Ben Dahan, was also present. He wrote on his Facebook page that "The sight of cohanim who gathered from all corners of the Land and earth, in order to bless 'the nation of Israel with love,' is a wonderful sight. True brotherly love. I hope and pray that we merit to strengthen this brotherly love in all sectors of society."
credit: פלאש 90
credit: פלאש 90
credit: פלאש 90
credit: פלאש 90
credit: פלאש 90
credit: פלאש 90
credit: פלאש 90
credit: פלאש 90