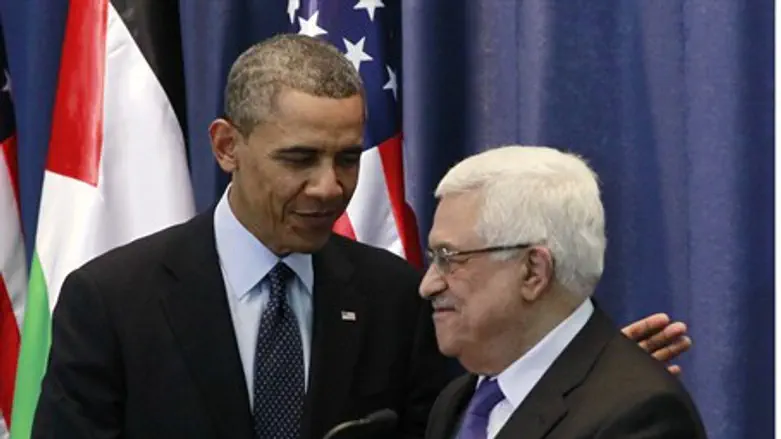 Abbas and Obama in Ramallah
Reuters
The United States has quietly unblocked almost $500 million in aid to the Palestinian Authority which had been frozen by Congress for months.
An announcement of the renewed aid to the PA was made by a top U.S. official on Friday, shortly after President Barack Obama concluded his visit to Israel and the PA.
"To date, we have moved $295.7 million in fiscal year 2012 money... and $200 million in fiscal year 2013 assistance," State Department spokeswoman Victoria Nuland told reporters, according to AFP.
The Obama administration also notified Congress in late February that it was seeking a further $200 million to fund U.S. Agency for International Development (USAID) programs for the PA, she added.
The first sum comprises some $195.7 million, allocated under the 2012 fiscal year budget for USAID economic, development and humanitarian assistance, as well as a further $100 million earmarked specifically for narcotics control.
The second sum of $200 million unblocked and available to the Palestinian Authority will come under the 2013 budget and be spent for direct budget support.
The Palestinian Authority is facing what has been described as its worst economic crisis in years, in part because of a failure by donors to deliver pledged funds. But its finances were plunged further into chaos after PA Chairman Mahmoud Abbas won upgraded UN observer status at the UN General Assembly in late November.
In response, Congress froze the U.S. administration's requests for funds to the failing entity. However, U.S. Secretary of State John Kerry has been fighting to send the PA nearly $700 million in aid, despite major budget cuts and a fierce debate over where existing money should go.
Nuland said last month that Kerry was working with lawmakers to "get appropriated money released for the Palestinian Authority because we think it's very, very important that they remain effective in supporting the needs of the Palestinian people."
In September of 2011, a $192 million aid package was frozen by Congress after the PA submitted a failed unilateral bid for United Nations membership.
Members of Congress later released $40 million in economic and humanitarian funding for the PA, saying it is "vital to establishing and strengthening the foundations necessary for a future Palestinian state."
Last April, President Barack Obama bypassed a Congress block and signed a waiver declaring that aid to the Palestinian Authority is "important to the security interests of the United States."
Last week, the Palestinian Authority urged the world to step up financial aid and press Israel to allow for its economic development.
"We call on the international community to ... pressure the government of Israel to release our revenues and to provide the financial support required to maintain basic functions and services," said a PA report.
On January 30, after PA Arabs rioted against Israeli security forces throughout Judea and Samaria, Prime Minister Binyamin Netanyahu instructed Israeli authorities to transfer the PA its tax revenues for January, "so that they won't have an excuse not to enforce calm on the ground."
The tax revenues were frozen in December after the PA upgraded its status at the UN.
In December the Arab League states pledged to pay the PA $100 million a month in a "safety net" and, while some of them delayed the payment, the PA has continued to blame Israel for the financial crisis.